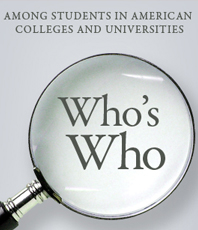 Every year, a select group of students is called forward to accept one of the most prestigious awards the academic community can bestow — selection to Who's Who Among Students in American Universities & Colleges. This exclusive honor is conferred by more than 2,842 schools in all 50 states and the District of Columbia and is symbolized by the presentation of an award certificate.
On April 1st, Dr. Patricia Whitley, UM's Vice President for Student Affairs, congratulated students from departments across the University in a ceremony at the Student Activities Center.
Students are nominated to Who's Who on the basis of academic achievement, service to the university, leadership, citizenship, accomplishments which brought distinction to the university, and potential for future achievement.
"Attending the Who's Who Ceremony with our brightest and most involved law students is one of my greatest honors," said Miami Law's Dean of Students Janet Stearns. "These students inspire me with their dedication to the community and their academic achievements, and I look forward to their leadership in the bar once they graduate from UM Law."
3L Corey Gray, a Captain in the U.S. Army Reserve, received a standing ovation in recognition for his military service when his name was announced at the ceremony.
"It was an honor to be selected for Who's Who, said Gray. "The ceremony highlighted the truly amazing contributions that University of Miami students are making locally, nationally, and globally. It is encouraging to know that UM law fosters an environment of empowerment and collaboration that translates into real change that will impact the lives of others for years to come."
This year 15 graduating Miami Law students were named to Who's Who.
We recognize and congratulate the following students on their leadership and service to the University, and on their nomination to Who's Who:
Brendan Corrigan: Dean's List; Dean's Certificate of Academic Achievement in State & Local Government Law; Outstanding Student Public Interest Scholarship; HOPE Public Interest Fellowship, 2012 & 2014 Summer Fellow; Student Delegate, University of Miami Board of Trustees; Society of Bar & Gavel; Division Governor, The Florida Bar Association Law Student; Activism Chair, OUTLaw; Mentor, Empowered Youth Mentorship Program
Javier Enriquez: Associate Justice, SBA Supreme Court; President, The Federalist Society; UM Mock Trial Team; Dean's Cup
Clifford Friedman: CALI Excellence for the Future Award in Family Law; Submissions Editor, Race and Social Justice Law Review (2013-2014); Recipient, Summer Public Interest Fellowship; Outstanding Public Interest Scholarship; Eileen G. Breier Scholarship (2013-2014); Law Alumni Association Board of Directors Scholarship (2013-2014); Writing Dean's Fellow (Spring 2013); Supervisory Writing Dean's Fellow (2013-2014); Research Assistant, Professor Franks
Corey Gray: Editor-in-Chief, National Security & Armed Conflict Law Review; Recipient, Litigation Skills Thomas Ewald Award; Recipient, Kozyak, Tropin & Throckmorton Litigation Scholarship; Recipient, Armando Alejandre Memorial Scholarship; Captain, U.S. Army Reserve; Iron Arrow Honor Society; Health Rights Clinic; Bankruptcy Assistance Clinic; Society of Bar & Gavel
Whitney Kouvaris: Dean's Certificate of Achievement in Family Law; Dean's Certificate of Achievement in Legal Communications; CALI Excellence for the Future Award in Criminal Procedure; CALI Excellence for the Future Award in Legal Communication & Research; Dean's List; Psychology & Public Policy Law Journal; Intern, Miami Street Law Program; Books and Buddies; Environmental Law Society; Student Animal Legal Defense Fund
Freddi Mack: Dean's List; Dean's Merit Scholarship; Dean's Certificate of Achievement in Contracts; Dean's Certificate of Achievement in Professional Responsibility; Dean's Certificate of Achievement in Copyright; CALI Excellence for the Future Award in Family Law; CALI Excellence for the Future Award in Legal Communication & Research; Online Editor, University of Miami Law Review, Dean's Fellow; Equity Playhouse
Sean Maye: Dean's List; CALI Excellence for the Future Award in the Miami Innocence Clinic; Society of Bar & Gavel; Law Without Walls; two-time President, OUTLAW; Chief Justice, Student Bar Association Supreme Court
Lauren Pettiette: Miami Public Interest Scholarship; Carlton Fields HOPE Fellow Scholarship; CALI Excellence for the Future Award in Children & the Law; Dean's Certificate of Achievement in Public Interest Law & Leadership; Dean's Certificate of Achievement Justice & the Pro Bono Ethic; Dean's Certificate of Achievement Legal Communications I & II; Children & Youth Law Clinic; Vice President, Society of Bar & Gavel; Chief, Iron Arrow Honor Society; Children & Family Law; HOPE Day of Service; Program Organizer/Tutor, Empowered Youth; Books and Buddies; Committee Member, Student Ambassador Program; Historic Black Church Program
Britney Quow: President, Association of Caribbean Law Students; Black Law Students Association; Regional Qualifier, Thurgood Marshall Mock Trial Competition; Human Rights Clinic; Student Ambassador; Books and Buddies
Paige Reese: Chief Articles Editor, National Security & Armed Conflict Law Review; Miami Law HOPE Fellow; Recipient, Outstanding Leader & Student Service Award; 3L Senator, Student Bar Association; Advisory Board Representative, Department of Wellness and Recreation; two-time Chair, Dean's Cup; LawWithoutWalls
Abraham Rubert-Schewel: Miami Scholar; Dean's List; CALI Excellence for the Future Award in Torts; Dean's Certificate of Achievement in Evidence; University of Miami Immigration Clinic; Inter-American Law Review; Charles C. Papy, Jr. Moot Court Board; Big Brothers Big Sisters; Empowered Youth; Books and Buddies; Executive Board Member, National Lawyer's Guild
John Thornton, Jr.: Death Penalty Clinic; Black Law Students Association; John T. Gaubatz Moot Court Board Competition; Research Assistant, Professor Copeland
Paulina Valanty: Miami Scholar; Dean's Certificate of Achievement in Elements; Dean's Certificate of Achievement in Civil Procedure; Dean's Certificate of Achievement in Legal Communications and Research; Dean's Certificate of Achievement in PREP Clinic; Eleventh Circuit Editor, University of Miami Law Review; Immigration Clinic; American for Immigrants Deportation Program; Research Assistant, Professor Mahoney
Jamie Vanaria: Editor-in-Chief, Inter-American Law Review; President, Law Students for Reproductive Justice; Society of Bar & Gavel; 2013 HOPE Fellow
Leah Weston: Harvey T. Reid Scholar; Miami Scholar; Dean's List, CALI Excellence for the Future Award in Legal Communications & Research; Dean's Certificate of Achievement for Outstanding Performance on Comprehensive Skills Test; Project Development, Public Interest Leadership Board; National Lawyer's Guild; Secretary, Society of Bar & Gavel; Death Penalty Clinic; Iron Arrow Honor Society; Research Assistant, Professor Mahoney
Alyssa Williams: Director, Equity Playhouse; University of Miami Law Review; Deans Fellow; participant, Dean's Cup; InterClub Council; Miami Law Ambassador; Miami Law Women; HOPE Day of Service; Canes Carnival; Walk the Dog, and Books and Buddies
Jenna Winchester: President, Student Bar Association; Dean's List; Dean's Certificate of Achievement in Legal Communications & Research; Dean's Fellow; Student Representative, University of Miami Board of Trustees; University of Miami Law Review; Charles C. Papy Moot Court Board; President, InterClub Council; Chair, UNetworking; Student Ambassador; Miami Law Women