James Slater, Center, addresses the Human Rights Committee about immigrant rights issues at a formal hearing at the Palais Wilson of the United Nations on Monday, March 10th.
Three students from Miami Law's Human Rights Clinic travelled to Geneva, Switzerland to participate in hearings and briefings in front of the United Nations Human Rights Committee. The committee had gathered to review the United States' compliance with its treaty obligations under the International Covenant on Civil and Political Rights (ICCPR), a treaty that the United States ratified in 1992.
Third-year law students Charlotte Cassel, Daniella Peterson, and James Slater, joined by Professor Caroline Bettinger-Lopez, addressed the 32-person U.S. delegation of the Human Rights Committee in regards to several human rights issues such as juvenile justice, Stand Your Ground laws, deportations to Haiti and domestic violence, many of which are under review in Florida. The U.S. delegation included members from the Department of Justice and the Department of Homeland Security.
"It was unfathomable to think that as a law student I would not only be able to participate with U.S. civil society at the United Nations, but that I would speak on behalf of NGOs to the Committee with regards to the rights of migrants and immigrants in the United States," Slater said. "This experience showed me that working domestically and internationally as a lawyer is not mutually exclusive."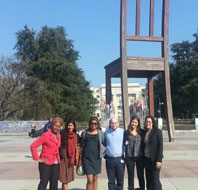 ​Cassel, along with partners from the Dream Defenders and the Community Justice Project of Florida Legal Services, met with the Human Rights Committee to discuss Stand Your Ground laws, specifically the Florida cases of the Jordan Davis' killing,Marissa Alexander's prosecution, and the Trayvon Martin murder.
Prior to traveling to Geneva, the Clinic submitted reports to the Committee on immigrants' rights, deportations to Haiti, domestic violence, gun violence, "Stand Your Ground" laws, solitary confinement of juveniles, and the prosecution of juveniles in the adult criminal system.
Several questions aimed at the U.S. delegation by the U.N. Human Rights Committee were a direct result of the Miami Law team's reports and oral interventions.
For example, during an informal briefing, Costa Rican Committee member Dr. Victor Manuel Rodrguez-Rescia, with two decades of experience in international human rights, asked the Miami Law group about the affirmative duty in U.S. law to protect victims of domestic violence. Bettinger-Lopez explained that, under domestic law, there is often no affirmative duty, or a legal obligation that requires some effort to protect victims of domestic violence, a position that is contrary to international human rights law. As a direct result of this interaction, Rodriguez-Rescia asked the U.S. government to specifically address this important issue and adopt policies and laws that comport with international standards.
During one discussion on continued deportations to Haiti, the Human Rights Committee heard a presentation by Marleine Bastien, Founder and Director of Fanm Ayisyen nan Miyami/ Haitian Women of Miami, and a leading human rights activist. Clinic students noted that much of what the Committee asked was taken from documents prepared Slater.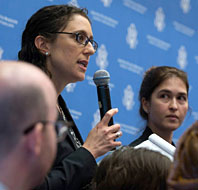 In regards to juvenile justice, the students also heard Committee Member Margo Waterval of Suriname query U.S. Deputy Assistant Attorney General for the Civil Rights Division Roy L. Austin Jr.'s assertion that the solitary confinement of juveniles is not an issue in the U. S. Austin also said that the U.S. Constitution and recently enacted Prison Rape Elimination Act (PREA) completely cover any issues that could arise with solitary confinement. Research by Peterson and other students at the Human Rights Clinic has found that a significant number of Florida youth are held in solitary confinement throughout their pre-trial detainment, a length of time that can sometimes reach several years.
"Hearing the Committee question the U.S. delegation about our issues made all the months of work and preparation worthwhile," said Peterson. "Since Team Juvenile Justice is a new project at the Clinic, it felt like validation that we were on the right path with our advocacy."
The students returned to Miami with many more ideas for how to use mechanisms within the U.N. to pressure the U.S. Government to comply with international treaty obligations and to enforce the protection of human rights at both the state and federal levels.