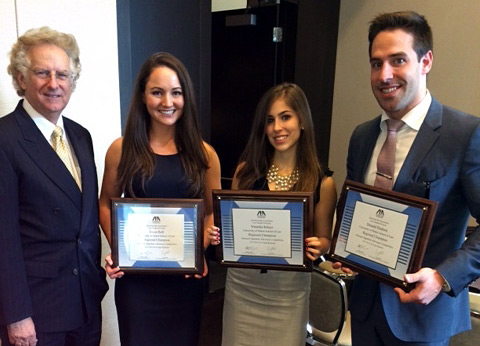 Coach Harvey Sepler, Erica Haft, Natasha Khoyi and D.J. Hodson at the NAAC.
The Charles C. Papy, Jr. Moot Court Board team of 2Ls Donald "D.J." Hodson, Erica Haft and support team member Natasha Khoyi finished in the top 4 percent at the National Appellate Advocacy Championship held in Chicago, Illinois. They made it to quarterfinal round, losing to Georgetown in the single elimination rounds. Georgetown went on to win the whole competition.
"We were honored to represent the University of Miami School of Law at the prestigious National Appellate Advocacy Competition, both at the regional and national level," said Haft.
"Quite frankly, it was impossible for us not to have been successful given the amount of support we received from Miami Law's incredible faculty, students, and alumni," said Hodson. "Next year, we're winning the whole thing."
Hodson and Haft were the oralists and brief writers, and Hodson received awards for second-place Best Oralist in the Regional, second-place Best Oralist in the Preliminary Rounds of the Finals, and sixth-place National Best Oral Advocate. The team also won the third-place Best Brief in the Regionals in Las Vegas.
"Put in perspective, 204 teams competed nationwide and we finished in the top 4% of the teams," said Adjunct Miami Law Professor Harvey Sepler, who coached the team. "I'm very proud of them."
The ABA Law Student Division National Appellate Advocacy Competition (NAAC) emphasizes the development of oral advocacy skills through a realistic appellate advocacy experience. Competitors participate in a hypothetical appeal to the United States Supreme Court. The competition involves writing a brief as either respondent or petitioner and then arguing the case in front of the mock court.
"In Chicago the competitors were fierce and each team had a unique oral argument style that was effective," said Haft. "What I believe ultimately set us apart was our comfort with answering any question thrown at us, because we had most likely heard it in some variation before. This is because our outstanding coach set up numerous practice rounds in front of distinguished attorneys as well as both the 3rd and 4th Florida District Court of Appeals."
In terms of Miami Law's overall moot court experience Haft added, "It's safe to say that competing in this competition and being involved in the law school's Moot Court Board have been the highlight of my law school career."