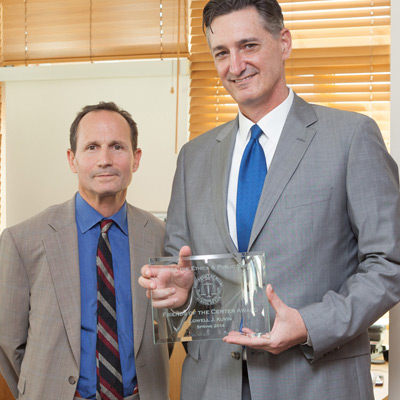 Miami Law's Center for Ethics and Public Service conferred their annual Friends of the Center award to four attorneys who provided critical pro bono legal services and dedicated leadership in the West Grove community's fight against the construction and operation of City of Coral Gables' trolley bus maintenance facility.
The four attorneys are: Ralf Brookes, a public interest solo practitioner; Philip Freidin, a personal injury trial lawyer with Freidin, Dobrinsky, Brown & Rosenblum P.A.; solo practitioner Lowell Kuvin, who grew up in Coconut Grove and whose practice focuses mainly on employment and labor issues as well as South Florida civil rights issues; and Joel Perwin, an appellate lawyer for 22 years with Podhurst Orseck before opening his own firm.
They were honored for their tireless work over the past two years to bring about an agreement to relocate the trolley maintenance garage, which does not serve the community in which it was built. The construction also brought up issues of health concerns to the single-family neighborhood it abuts and Federal Civil Rights violations.
"If not for the work of these exemplary lawyers, the citizens of the historic West Grove would be forced to live next door to a municipal bus garage that adversely impacts their environment, health, and quality of life and, moreover, violates their most basic civil rights," said Anthony V. Alfieri, Miami Law Professor, Dean's Distinguished Scholar, Director of the Center for Ethics and Public Service and Founder of the Center's Historic Black Church Program, which took up the trolley fight in 2012.
The Friends of the Center Award was established in 2001 to honor either individuals or groups who have provided long-standing and on-going support, assistance, and collaboration with the Center's program and students.
Founded in 1996, the School of Law's Center for Ethics and Public Service (CEPS) is an interdisciplinary program devoted to the values of ethical judgment, professional responsibility, and public service in law and society.
Commenting on the lawyers Brookes, Freidin, Kuvin and Perwin, Alfieri added, "They were incredibly dedicated to the plight of the residents of this low-income neighborhood and unbelievably generous with their time. It has been a privilege to have them on our team."