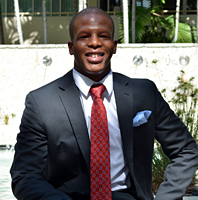 Having served as President of the Black Law Student's Association (BLSA) at Miami Law during the 2013-2014 school year, second year law student Jordan Hadley is well groomed for his new position as Attorney General of the National Black Law Students Association (NBLSA). Hadley will serve as the Attorney General for the 2014-2015 school year.
An elected position, Hadley presented a campaign speech at NBLSA's 46th National Convention in Milwaukee, Wisconsin in March. Delegates from law schools across the country voted during the convention. Hadley ran against one other student.
In his new role, Hadley will be responsible for educating NBLSA members and the community at large about issues affecting African- American communities, working with Congress to determine what these issues are, preparing amicus briefs in support of relevant cases, and assisting local chapters of BLSA with the implantation of advocacy initiatives and programming.
"I look forward to the opportunity to work with other dedicated individuals from throughout the nation to shed light on issues affecting African-American and minority communities. I am grateful to the Law Activity Fee Allocation Committee for funding this trip," said Hadley.
Born and raised in Jacksonville, Florida, Hadley attended Florida A&M University where he studied Political Science and Business Administration. He decided to attend Miami Law because of its close-knit student body and student-centric philosophy.
"UM Law felt like the type of school that would foster tight-knit and student-centric environment. UM gave me that feeling when I came to visit, and it still does."
Hadley hopes to practice banking or securities law in Washington D.C. or Charlotte, North Carolina, and is open to having a career in lobbying as well.
Because his new position as Attorney General will be demanding on Hadley's time, he will not serve on the Executive Board of UM's BLSA chapter next year, though he plans to support incoming BLSA President, Kemi Ijitimehin, with anything she may need.
"Jordan has worked diligently to elevate the Robert H. Waters Chapter of BLSA, both in the southeast region and nationally. He is well prepared to do a fantastic job as the National Black Law Student Association Attorney General," said Marcy Cox, Assistant Dean for the Career Development Office and Faculty Advisor to the Black Law Students Association.