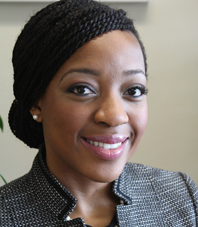 Third year Miami Law student Pamela O. Adewoyin was recently awarded the nationally competitive "My Life as a Lawyer" scholarship. The award, granted by the Corporate Counsel Women of Color (CCWC), is designated for law students who strive to foster diversity within the legal profession.
I am so humbled the Corporate Counsel Women of Color selected me as an award recipient," said Adewoyin. "I have a lot of respect for the work that the organization is doing, and I admire the women involved, especially the CEO Laurie N. Robinson. I am grateful to even be considered by such an amazing league of women." At Miami Law, Adewoyin has served as President of the Black Law Students Association's Robert H. Waters Chapter; a fellow in th Center for Ethics and Public Service; Symposium and Events Editor of the Business Law Review; and a member of Honor Council.
Adewoyin attended Temple University in Philadelphia, where she graduated magna cum laude and served as Commencement speaker for her school. She is currently an intern for Telemundo Network Group and has previously served as a judicial intern for the Honorable Chief Judge Linda A. Wells in Florida's Third District Court of Appeals and an intern with Warner Music Latin America.
Earlier this year, Adewoyin was also honored with the National Black Law Students Association's Outstanding Student Leader Scholarship. The award is given annually to recognize an NBLSA member who has excelled academically, in addition to being active in his or her BLSA chapter and community.
The CCWC was inaugurated in 2004 as a support network for women attorneys of color. Based on the premise that women of color face a specific set of challenges within the legal profession—particularly with respect to the glass ceiling and limited networking opportunities—the CCWC promotes their advancement within that arena and advocates for diversity in the workplace.