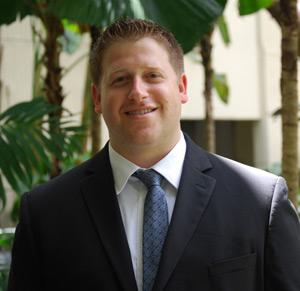 Jordan Redavid, a 3L from Port Jefferson, NY, spent his summer at the Miami-Dade Public Defender's Office completing his HOPE Fellowship. During his time there, he had the opportunity to observe several criminal jury trials. He couldn't help but notice that each time the State and Defense attorneys used the same method to track jurors through the voir dire process - the process by which attorneys select or reject certain jurors to hear a case. He assumed their civil counterparts used the same system.
"Each attorney creates a hand-made grid on a manila folder, the squares of which reflect the specific seats in the courtroom," said Redavid. "Each square is then filled in manually with handwritten prospective juror information: name, age, occupation, race, and so on, based on the questionnaires. The squares would be updated throughout the voir dire process. When it came time for actual selection, attorneys would search through their tiny, scribbled notes for each juror to recall all of the pertinent information they had discovered about them.
"Needless to say, aside from being tedious, the entire process seemed unnecessarily laborious and outdated, so I endeavored to come up with a solution," said Redavid.
Despite never having developed an app, he started reading dozens of articles and blog posts to discover the best way to connect with an app developer, as he lacked programming and coding skills for the app he envisioned. He wanted an app for Apple's iPad that would easily streamline and organize the process. It would save time, money, and make trial attorneys' jury selection easier.
He submitted his idea as a job proposal on a website that would put his idea out for bid to developers. When he connected with a developer he was happy with, he took the lead on the ideas for graphics, functionality, and testing and the developer did the coding and programming.
After a month building dozens of drafts and versions, and another month working with Apple to work out bugs and prepare for release, Apple notified Redavid last week that his app "Jury Selection" had been approved and released to the public for download via the iTunes Store. The app has a snappy image of a gavel and book on a green background as its icon/logo and can be found with a basic search in iTunes.
It is 100% FREE to download, and can be used for a period of ten days without charge. Once the 10-day trial period expires, the app will block the user from further use unless the app is purchased for a small subscription fee. The app does not automatically charge the user.
"Basically, you can re-create your courtroom, customize size and number of seats available in jury box and both galleries, seat individualized prospective jurors, update their status and notes, and have an easy to use database to use when going through the actual selection process," Redavid said. "When you're done, you can actually email yourself the results from the entire process to keep track of who used what strikes on what jurors and such."