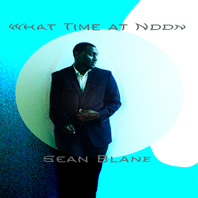 What started off as an 8th-grade dare to enter a middle school talent competition ended up being one of 2L Sean Méndez-Catlin's passions. "I was terrified to perform in front of so many people, and pleasantly surprised when the audience gave me a standing ovation." This was only the beginning of Méndez-Catlin's singing career.
Last year, while many of his classmates were busy socializing and relaxing in their free time, Méndez-Catlin was working hard on his first musical album, "What Time at Noon." The album's name was inspired by a conversation in which Méndez-Catlin asked someone to meet him at noon, and the person responded by asking "What Time at Noon?"
From start to finish, it took Méndez-Catlin a year to write, sing, mix, master and compile the 15-track album, which he made under the stage name "Sean Blane."
For the most part, Méndez-Catlin worked on the album by himself, but his roommate and fellow 2L classmate, Lex-Jordan Ibegbu was featured in the song "Home With Me." "Lex and I met and became friends/roommates through the JWJ Program at UM Law."
Raised in Philadelphia, Pennsylvania, Méndez-Catlin majored in Sociology and minored in legal studies and history at The University of Pennsylvania. At the same time, he was a small forward on the school's junior varsity basketball team and an active member, and later director, of "The Inspiration," a co-ed a cappella singing group.
Méndez-Catlin, who always had plans to attend law school, decided to attend UM to be closer to his family who had recently moved to Florida. "I almost came to UM for undergrad since I loved the campus and the weather was much better than the weather up north. I knew UM was a good law school and this would be my last opportunity to become a Miami Hurricane."
Through the joint J.D./ Master of Music in Music Business and Entertainment Industries program, Méndez-Catlin has found a way to combine his long-term goal of becoming an attorney with his passion for music.
When asked for his opinion on the J.D./MM. program, Méndez-Catlin stated, " The degree very much is all-encompassing. I am learning a lot about how music is made and consumed, and what barriers you face as a musician. The best thing about the teachers in the School of Music is that they are all current or former musicians. The joint program has enabled me to enhance my knowledge about the world of music entertainment, while getting a good legal education."
Méndez-Caitlin's long-term goal is to become a prosecutor who performs music on the side.