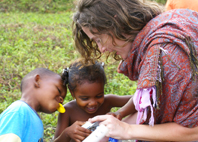 Comprehensive immigration reform sits on the horizon as Liz Rieser-Murphy, J.D. '12, advocates for the safety and wellbeing of unaccompanied immigrant children in Harlingen, Texas – a small town in south Texas where the front line in the fight for comprehensive immigration reform has landed. The area in the Rio Grande Valley – where there is now a mounting body count and soaring number of Border Patrol apprehensions - reflects a shift in immigrant migration routes away from the well-worn paths crossing into Arizona.
Rieser-Murphy moved to Harlingen in August to join the fight.
Rieser-Murphy affirmed her interest in immigration reform at Miami Law while studying immigration law and working for the Immigration Clinic. After graduating last year, Rieser-Murphy clerked for D.C. Superior Court Judge Lynn Leibovitz, the deputy presiding judge of the D.C. Superior Court's Criminal Division.
"Immigration and criminal often intersect," Rieser-Murphy said. "I was torn about which way to go. But after spending a year in a criminal court setting, it became clear to me that immigration reform is the human rights issue of our time. I want to be a part of that process."
And so Rieser-Murphy took a Staff Attorney position with The Young Center for Immigrant Children's Rights in South Texas, a trail-blazing organization that provides guardians ad litem (child advocates) to unaccompanied immigrant children.
Unaccompanied immigrant children are particularly vulnerable - although civil and criminal courts routinely appoint guardians ad litem to represent the best interest of minors, and although the International Convention on the Rights of the Child was based on this U.S. "best interests" model, U.S. Immigration Courts do not recognize immigrant children as distinct from adults or consider the children's best interests when deciding whether to grant protection of order the child deported.
Rieser-Murphy also works directly with detained children, advocating for their best interests with respect to their custody, conditions of release, and their immigration proceedings. "This job is the dream job," Rieser-Murphy boasted. "I have the opportunity to carry my own caseload, negotiate with different stakeholders, and work with an amazing team of people who are all so committed to doing what's best for immigrant children. Being a lawyer is being an advocate, and I get to be an advocate every day."
She developed the skills to fulfill her job while clerking at the D.C. Superior Court and studying at Miami Law. "Clerking gave me the opportunity to not only watch attorneys practice, but also hear judge's critique attorneys' practice," she said. "Having the opportunity to research and write for a judge is priceless."
Rieser-Murphy learned how to interface with different stakeholders while at Miami Law where she served as president of the Public Interest Leadership Board. She also developed counseling, caseload management, and legal immigration skills while working as a Student Attorney at the Immigration Clinic.
She additionally honed her networking skills while participating in LawWithoutWalls, and built investigation skills with the support of the Miami Scholars Public Interest Program.
"Thanks to the Miami Scholars program, I had the opportunity to travel to Medellin, Colombia to work for a human rights clinic after my first year of law school," Rieser-Murphy explained. "That experience helped me strengthen my investigative and research skills. It also gave further insight into the complex forces that lead to displacement and forced migration—insights that help me in my job now."