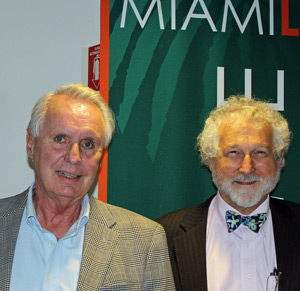 Nature is the infrastructure of our society, and if we don't protect it our civilizations cannot last. This was the core message international law and policy expert Dan Magraw delivered last week during a conversation led by Miami Law Professor James W. Nickel about the future of international and environmental law.
Magraw dedicated his life's work to environmental law and policy in 1972 after leaving for India to serve in the Peace Corp. Most recently, Magraw was President and Chief Executive Officer of Center for International and Environmental Law (CIEL) from January 2002 to September 2010. During that time he worked on projects including toxic chemical research, democratizing international dispute settlement, and international trade and environment advisory for the federal government. He now teaches at Johns Hopkins School of Advanced International Studies and is still an active environmental lawyer.
Nickel, a long-term friend of Magraw, holds a joint appointment in the Philosophy Department and Miami Law. He teaches and writes dissertations in human rights law and theory, political philosophy, philosophy of law, and constitutional law. Nickel first directed questions about international law and policy to Magraw before opening the floor up to the attendees.
Of the many topics covered, Magraw spent a great deal of time discussing climate change. "Addressing the environment is not difficult, our world and government has just neglected it," said Magraw. "Too many countries are uneducated about the effects of climate and sub-sequentially cannot agree on binding legislation to address it."
Uncertainty remains the biggest detractor in dealing with climate change. Because it has remained unchanged in roughly 15 years, many world leaders do not understand the need to address its harmful effects, according to Magraw. He deems such inactivity especially troublesome as India, China, and certain Middle Eastern countries continue to grow in population and account for a greater portion of economic resources. While others have proposed developing "artificial clouds" that could reflect greenhouse gasses and other harmful matter back into the atmosphere in order to combat detrimental environmental effects, Magraw opposes such an action.
Magraw expressed the need for environmental law to be understood in terms of humanitarianism. "Environmental injustice violates human rights," Magraw said. "Environmental justice will most likely come from the local level, and fortunately many universities, cities and some states are embarking on initiatives to reduce their carbon footprint."
Magraw is concerned that the U.S. government continues to downplay the environment in lieu of national defense and other issues. The Clinton administration did not prioritize the environment, and neither the Bush nor Obama administrations have prioritized the environment, according to Magraw. "Deleterious environmental effects subsequently affect our health, income, and education," said Magraw. Still, he continues to work diligently to address the problem and inspired attendees interested in environmental well-being to do the same.
The event was co-sponsored with The Leonard and Jayne Abess Center for Ecosystem Science and Policy. The center is the nexus for a flexible undergraduate program at UM, as well as a graduate program that allows students to dynamically explore both environmental science and policy. The program presents topics in the context of problem-oriented learning, and gives students the opportunity for substantial field experience.