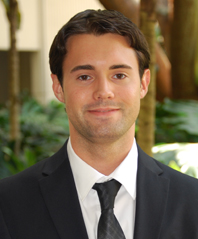 Home is where the heart is, and HOPE Public Interest Fellow Scott Cummings spent his summer helping to mend the hearts of low-income residents faced with home foreclosure at the Consumer Law Unit of the Broward County Legal Aid Service (LAS) in Plantation, FL.
LAS provides foreclosure assistance for individuals experiencing mortgage default issues as well as for homeowners or condominium association complications.
Cummings, now a 2L at Miami Law, takes pride in having helped people truly in need of pro bono services. Of his summer Cummings said, "It was a very rewarding experience, and I saw just how important the attorneys' assistance was to their clients... that experience really motivated me to pursue public interest work throughout law school, especially with the HOPE Summer Public Interest Fellowship program."
As an intern, Cummings conducted client intake interviews, drafted motions and pleadings, and researched the effect that filing a bankruptcy petition has on foreclosure cases. He also examined changes to Florida's foreclosure process following the recent passage of House Bill 87, which essentially speeds up the state's foreclosure process.
One of the more challenging aspects for Cummings was sitting with clients whose homes had already been sold or had a foreclosure sale date. As the foreclosure process moves forward, there are fewer options available to clients and much less of a chance to save their homes compared to clients not faced with foreclosure, such as those who have just fallen behind on a few mortgage payments. "It can be distressing because you want to help your clients keep their home, but sometimes there is not much you can do from a legal standpoint at the latter foreclosure stages," said Cummings.
Cummings is especially proud to have served the interests of fellow Floridians. He is a native of Fort Lauderdale, Florida, and attended the University of Florida prior to becoming a Hurricane. As an undergraduate, Cummings interned in the Felony Domestic Violence Division of the Broward County Public Defender's Office.
The LAS internship was Cummings' first stint in the public interest sector of the law. However, it will likely not be his last, "I learned so much about public interest work through the class and my placement, and after I graduate I would like to practice public interest law in South Florida."
While not exactly sure which area of public service Cummings will land in, he is taking advantage of his time in law school to further discover where his public service interests lay.