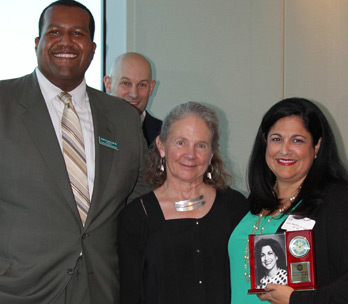 Four prominent Miami Law graduates were honored by the Law Alumni Association on Tuesday, Oct. 22, at the annual Miami-Dade County Judicial Reception. Judge Bertila A. Soto, JD '89, Judge Jonathan Goodman, JD '83 and Saif Y. Ishoof, JD '00 were each given the Alumni Achievement Award, while attorney Jane Muir, JD '09 received the Alumni Leadership Award.
Judge Soto, an adjunct professor at Miami Law, was elected Chief Judge of the Eleventh Judicial Circuit of Florida, which serves Miami-Dade County, earlier this year. Her election was historic, as she is the first female chief judge of the circuit as well as the first Hispanic and the first Cuban-American. Judge Soto was elected to a county court judgeship in 1996, elevated to the circuit bench by Gov. Jeb Bush in 2002, and re-elected without opposition in 2004 and 2010. She is a former prosecutor with the Dade County State Attorney's office.
Judge Goodman is a United State Magistrate Judge for the Southern District of Florida. A former federal prosecutor, Judge Goodman has extensive experience in criminal and civil cases in federal and state court, arbitration hearings, and administrative proceedings. Earlier, he was a criminal prosecutor and civil trial lawyer with the United States Attorney's Office in Miami. Prior to his appointment as a U.S. Magistrate Judge, he was co-chair of Akerman Senterfitt's White Collar Crime and Government Investigations practice. Judge Goodman has received many accolades for his work in the legal profession, including The Best Lawyers in America 2007-2010.
Saif Ishoof is Executive Director of City Year, an organization which focuses on decreasing the one million students who drop out of school each year. Prior to joining City Year, he served as the CEO of FCT Technologies Corp, a firm heavily engaged in international projects in renewable energy, crop science and water resource management. He serves as a member of the board of GenerationEngage, which is a national non-profit focused on empowering and engaging young Americans in civic life. Ishoof is a board member and co-founder of the CVA Foundation, an organization dedicated to fostering the greater involvement of New Americans in the political process. He is past Chairman of the Miami Dade County Asian American Advisory Board and serves as trustee of the Public Health Trust, where he sits on the governing board of Jackson Memorial Health System.
Jane Muir, a partner at Gersten & Muir, focuses on civil litigation, corporate counsel and corporate formation. She serves the community by supporting organizations that provide free legal assistance to indigent clients, and received a Pro Bono Service Award from the Dade County Bar Association for Innovative Projects in 2012. She is a member of the Dade County Bar Association's Board of Directors and Executive Committee since 2010, former Chair of Miami Law's Young Alumni Committee, and past President of the Coral Gables Bar Association. The Alumni Achievement Award recognizes alumni nationally who have excelled in their chosen profession and in service to Miami Law. The Alumni Leadership Award recognizes excellence, specifically in the area of leadership. The award often recognizes Bar leaders or directors and presidents of service organizations.