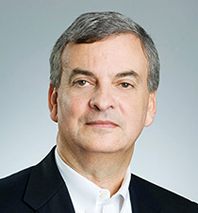 Alberto Mora, J.D.'81, a recipient of the John F. Kennedy Memorial Foundation's Profile in Courage Award, will present the Louis Henkin Lecture Series on Human Rights on Monday, September 30 at 5:30 p.m. The title of the lecture will be "Destroying What we Seek to Protect: Interrogation, Values, and U.S. Foreign Policy." The lecture will take place at the University of Miami Law School, Room E352.
Mora, former chief legal officer for both the Navy and Marine Corps, supervised the Navy's Judge Advocate General Corps and the Marine Corps Staff Judge Advocates. Additionally, he served as the Reporting Senior of the Naval Criminal Investigative Service, as the Department's Chief Ethics Officer and, on occasion, as Acting Secretary of the Navy. Earlier in his career, Mora also served in the U.S. State Department as a Foreign Service Officer and as General Counsel of the United States Information Agency in the George H.W. Bush administration.
A member of the Council of Foreign Relations, he sits on the Board of Directors of Human Rights First and Freedom House. In 2006, Mora was awarded the John F. Kennedy Memorial Foundation's Profile in Courage Award in recognition of his opposition – while serving as Navy General Counsel – to the cruel interrogation of detainees in the post-9/11 period. His detainee-related activities at the Navy have been widely reported in periodicals, books and documentaries. In 2013, he was included in Mariana Cook's book Justice as one of 99 individuals who have made a significant contribution to human rights.
The event is free and open to the public. A reception will immediately follow in the Alma Jennings Student Lounge. Please RSVP by Thursday, September 26.
For more information, contact Annette Hugues at ahugues@law.miami.edu or 305-284-1689.