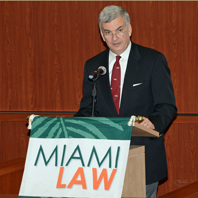 Alberto J. Mora, JD '81, visited Miami Law last week to deliver a powerful address about foreign policy and the use of torture as a means to extract information from prisoners at the Louis Henkin Lecture on Human Rights.
During the lecture, titled "Destroying What We Seek to Protect: Interrogation, Values, and U.S. Foreign Policy," Mora vehemently opposed all methods of cruelty conducted by government officials against foreign detainees, codifying torture as sabotage to our moral authority.
Mora's perspective is of particular significance because of his extraordinary experience and resume. After graduating from Miami Law, Mora served in the U.S. State Department as a Foreign Service Officer and as General Counsel of the U.S. Information Agency in the George H.W. Bush administration. From 2001 to 2006, Mora served as the General Counsel of the Department of the Navy, and in August 2013 Mora retired from Mars Incorporated where he joined in 2008 as Vice President, Secretary, and General Counsel.
Mora was not shy in voicing his opposition of authorized torture. "Respect for human dignity is never to be abandoned, and the employment of cruelty via torture diminishes our nation's values," Mora said. In support of his position, Mora drew attention to Article 1 of the Basic Law for the Federal Republic of Germany, which states "The dignity of man is infrangible. To honor and to defend it shall be the mandate of all state supremacy."
Before 9/11, there was an unspoken consensus that cruel treatment could not be applied to human prisoners, but Mora believes that mentality changed after the World Trade Center towers went down and people deemed torture to be acceptable if it keeps others safe. However, Mora still believes that our nation's defense is not strengthened by utilizing torture methods because it compromises our ability to gather accurate intelligence information.
Even while on the hot seat after being asked whether or not he would deploy an "any means necessary" approach to extract information to save hundreds of thousands of lives, Mora still maintained that torture is never an ideal solution. He resolved that applying prisoner abuse for the safety concerns of many people opens the door to prisoner abuse for the safety of one person, which would leave local police free to torture prisoners at will.
"Torture is unnecessary," said Mora. "For example, the Nuremberg Trials and treaties developed at the Geneva Conventions were significant achievements in human rights and punishing crimes against humanity. Cruelty damages its victims and the fabric of the law."