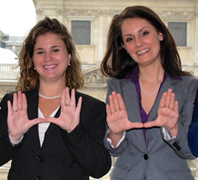 "One of our clients, an elderly retired couple, lost a significant portion of their retirement savings when their broker unsuitably recommended that they purchase Fannie Mae preferred shares, three months before it entered conservatorship," said James Galvin, a third year law student and former fellow at Miami Law's Investor Rights Clinic. "We were able to recover all of the money they lost in the investment. Seeing how happy and grateful they were and knowing how much of a difference that will make in their lives was incredibly rewarding."
The Investor Rights Clinic, led by director Teresa Verges, is the newest live-client clinic to join Miami Law's practical programs. The Clinic is a one-semester program staffed by second and third-year law students who represent underserved investors in securities arbitration claims against their brokers before the Financial Industry Regulatory Authority (FINRA). FINRA is a self-regulatory organization that administers the largest forum for arbitration of securities claims in the United States. Arbitration is the most widely used means of resolving disputes in the securities industry.
Since opening its doors in January 2012, the Investor Rights Clinic has received and handled 136 "intakes," or calls from individuals who believe they have suffered financial losses or believe they have been the victims of fraud, opened 31 active matters, and has recovered over $250,000 for investors. Most of the Investor Rights Clinic's clients are retirees with no meaningful investment experience whose retirement savings were placed in securities products far too complex or speculative for their profiles.
"When I first came to the Investor Rights Clinic, I didn't know what to expect," said Bianca Olivadoti, third year law student and Clinic fellow. "Investments? FINRA? Brokers? I didn't understand any of it. Nothing really stuck until Professor Eichhorn told me a story about a married couple living in Ohio. Both are retired, but remain very active in their church community. After receiving a small inheritance, the two sought investment advice from a local broker. They wholeheartedly — and perhaps naively — trusted this man to do what was best for them. Of course, $35K and seven years later, they had lost over two-thirds of their investment in an illiquid REIT (Real Estate Investment Trust) and came to the Investor Rights Clinic as a last resort," she said.
"Each time we spoke to them on the phone you could hear the despair in their voices — 'we were so stupid to have trusted him,'" said Olivadoti. "At one time, in all seriousness, we could hear the tears surfacing through their words. It was heartbreaking. But, in each conversation, we could also hear gratitude - which was indescribably rewarding."
"The Investor Rights Clinic gives Miami Law students the opportunity to give back to their community by helping individuals, who are often times elderly seniors that have lost the majority of their retirement and/or savings as a result of wrongful conduct by their broker," said Gabriela Pirana, a third year law student and Clinic fellow.
"This past semester my team and I were able to investigate the facts of a case involving a woman and her Alzheimer's stricken mother who lost the majority of their retirement savings as a result of their broker's false assurances that they should invest all of their money in a single security. As a result of our investigation we were able to draft a state of claim to submit to the Financial Industry Regulatory Authority in hopes of obtaining their life savings back and providing these women with some recourse as to the wrongs they have been forced to endure."
Because of the availability of FINRA's Simplified Arbitration procedure for claims under $50,000 (which allows claims to be decided entirely on the papers submitted), the Investor Rights Clinic has been able to review and handle matters outside of South Florida. Financial literacy is also an important mission of the Investor Rights Clinic, and as such, every student intern participates in at least one financial literacy outreach event or project each semester. The students have held presentations in South Florida at senior centers, schools and a vocational rehabilitation center.
"The Investor Rights Clinic was the most rewarding experience I've had in law school," Galvin said. "The realization that I, as a student, could actually help real people with real problems was the most enlightening experience that I have had in law school so far," added Olivadoti.