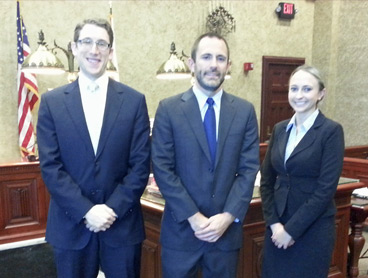 Miami Law's Tenants' Rights Clinic kept a client in the apartment she called home for 31 years by obtaining a favorable verdict after a two-day jury trial in April.
The client lives in public housing operated by Miami Dade County and has worked for the School Board for 21 years helping disabled children ride buses.
One night her son had a large birthday party outside her apartment. As the party was ending, uninvited men came on to the property and shot several partygoers. Without learning all of the facts, the County immediately sought to evict the tenant because of her son's party and the crime which occurred outside her apartment.
The tenant was represented by two Clinic students, Joshua Levine, who graduated this past May, and 3L Alison Rioux, as well as Clinic Director Jeffrey Hearne. Levine and Rioux were both Certified Legal Interns authorized by the Florida Supreme Court to represent clients in court.
During trial, the students assisted in voir dire, conducted the direct examinations of five residents present during the party, and cross examined the landlord's only eyewitness. After deliberating for over an hour, the jury returned a verdict in favor of the tenant, finding that she did not violate her lease by having the party.
"When the jury's verdict was announced, our client broke down in tears and expressed her sincere gratitude for all our work," said Levine. "That moment was quite emotional for me – not only because of what the result meant for our client, but also because of what it meant about our system of justice. Our system of justice worked just as it should, and I was proud to be a part of it."
According to Rioux, "having the ability to help someone who is losing their home, the place where they have lived and watched their children grow up, is one of the most rewarding experiences that I have ever had."
The Tenants' Rights Clinic is a one semester clinic based at Legal Services of Greater Miami, Inc. (LSGMI). LSGMI is a non-profit law firm which provides civil representation to low-income families in Miami-Dade County and the Florida Keys. Since its inception in 2009, 35 students have represented over 185 clients.
The Clinic gives students practical experience representing low-income families with housing-related legal problems and focuses primarily on preventing homelessness by defending evictions and housing subsidy terminations, improving housing conditions, and increasing access to affordable housing.
"My favorite experience in law school so far has been my time at the Tenant's Rights Clinic," said Rioux. "The Clinic was the only time I have been afforded real life experience rather than just learning basic legal concepts in a classroom setting. This type of opportunity is something that all law students should have the ability to experience."
Not only does the Clinic give students the opportunity to develop their practical skills, it helps students learn about the unmet legal needs of low-income people. Levine, who is now an attorney at Gunster, said the clinic experience, "opened up my eyes about the possibility of pro bono work throughout my career. While there, I was able to make a real difference in peoples' lives."