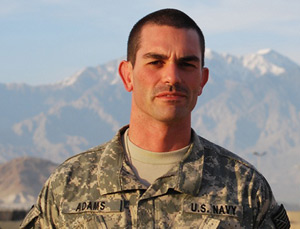 Miami Law alumnus Navy Lt. Jesse David Adams never wanted to be a lawyer and didn't have plans to join the military. He arrived as a 1L without any firm direction. Now, he is not only both a lawyer and in the military, but has risen, in short order, to the highest echelons of the legal-military summit.
The 31-year-old from Hollywood, Florida graduated from the University of North Florida with a dual degree in Business Marketing and Management and a minor in psychology.
"I never imagined that I would go to law school but once I made the decision in undergrad, then Miami was my top choice. I grew up in South Florida and was always a 'Canes fan so when I got accepted to Miami I jumped at the opportunity," Adams said. "Of course Miami Law also had a great reputation and I always imagined myself as practicing in South Florida so the opportunity to learn and network with my peers at UM was an important factor."
He credits the faculty, the Litigation Skills Program, and the administration for giving him valuable advice and priceless exposure to the legal world.
"UM law school afforded me the opportunity to intern at two private firms and with three different judges, including two Justices of the Florida Supreme Court," Adams said. "These opportunities gave me a wide range of experiences and allowed me to be more comfortable interacting and offering my analysis and opinions to senior leaders in their respective fields."
Add to the mix former Miami Law Criminal Law Professor and former Judge Advocate General (JAG) Mario Barnes. He planted the seed for Adams to pursue the JAG track.
"Jesse was a very memorable student," said Barnes. "He was in one of the first two criminal law courses I taught at the University of Miami. When he realized I was a former active duty JAG who maintained a reserve appointment, he sought me out for advice. He exhibited an incredibly enthusiastic level of interest. It appeared to be fueled by at least two things: a family connection to naval service — through his grandfather I believe; and his own significant interest in both serving his country and obtaining the diverse experiences available to JAGs. I conducted Jesse's interview for the student program and met with him several times while he awaited a decision from the JAG selection board. I don't believe I ever had a student who wanted the opportunity more, or for whom I was as certain they would be a great success if selected. It does not surprise me that Lt. Adams has received this award. I can say, however, that I am very proud of him."
Three other JAGs came out of the 2007 class — Timothy Boyle, Warren D. Thomas, and Patrick Johns. Adams and Thomas, an Army JAG, crossed paths during a deployment to Afghanistan. Boyle, a Navy JAG, was stationed at Mayport at the same time as Adams during their last tours.
"I joined the Navy JAG Corps during my second year at UM Law," said Boyle, who now works for Naval Special Warfare. "I was motivated primarily by a desire to serve as well as the opportunity to travel, deploy, and work on unique and important issues. My time at UM and in particular, my studies on the law of the sea, certainly set me up for success as a Navy judge advocate," Boyle said.
At Miami Law, Thomas was active in Lit Skills, the Society of Bar and Gavel, and was aHOPE volunteer. Johns was involved in Lit Skills and the Center for Ethics and Public Service.