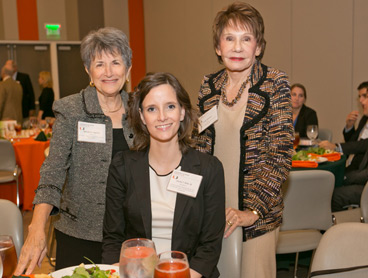 More than 200 scholarship donors and recipients attended the Donor Scholarship Luncheon on October 16 in the ballroom of the new Student Activities Center. Representatives from many of the scholarships were in attendance, including Wayne Chaplin, J.D.'82, who has generously donated matching funds to new scholarships through the Chaplin Challenge. To date, $800,000 has been matched and 17 scholarships established.
Dean Patricia D. White opened the luncheon thanking the donors for their munificence saying, "It is particularly important right now for our law students during these challenging times," she said. "We still need to attract the best and the brightest and your scholarship money makes this all possible."
Many of the scholarship recipients had the opportunity to meet and lunch with their beneficiaries.
Wendy Lapidus lunched with recipient Lacey Stutz of the scholarship named in memory of her late husband, Richard L. Lapidus, J.D.'61.
The Richard L. Lapidus Endowed Scholarship is awarded to a student who has excelled in the Litigation Skills program and demonstrated a clear understanding of legal ethics. It was established by friends and relatives of Lapidus, a passionate trial and appellate lawyer, who died in February 2012.
"The scholarship fund was established because Burton Harrison, who died this past summer, and his wife, Lydia, wanted a scholarship in memory of their dear friend, Richard Lapidus, my late husband," said Wendy Lapidus. "Burt, a friend of 48 years, had always admired Dick's ability as a trial lawyer and thought the scholarship should be for a student who showed a particular interest in litigation. I loved the idea and matched their contribution."
"It was a wonderful gesture on the part of the Harrison's to initiate this fund," said Wendy Lapidus. "Lydia and I got to meet Lacey at the UM Law Donor Scholarship Luncheon. She is a charming and intelligent woman, and we are delighted to be able to help her further her legal education. She is the kind of woman Dick would have hired as an associate, and I wish they could have worked together."
3L Lacey Stutz sat next to Lapidus and they chatted like old friends. "I was thrilled to have the opportunity to meet and personally thank the generous donors who contributed to my scholarship," she said. "I enjoyed learning more about them and their connections to the Miami Law community. In fact, one of the donors, Mrs. Wendy Lapidus, invited me to attend a concert with her that evening. It was a wonderful experience where I got to know her better and learn about the Miami legal community's support of the arts in South Florida. I look forward to keeping in touch with her and the other individuals who generously donated to my scholarship."
"The scholarships I have received have made a huge difference in my legal education. Without the scholarships, I would not have the freedom to take the classes and pursue the professional opportunities that most interest me," Stutz said.
Michael A. Rosen, J.D.'73, attended on behalf of the friends, family, and colleagues who established the Judge Maxine Cohen Lando Endowed Memorial Scholarship. The scholarship is awarded to a second or third year law student based on merit and financial need, and who has demonstrated an interest in pursuing a career in public service with preference given to a female student. The recipient is known as the "Judge Maxine Cohen Lando Scholar."
Judge Lando, JD '74, was a Circuit Judge in the 11th Judicial Circuit of Miami-Dade County, who passed away after a battle with cancer.
"It was inspiring to learn of the story of Judge Maxine Cohen Lando from those who were close to her and have established the scholarship in her name," said 3L Melanie Spencer. "I am honored to be the first recipient of the scholarship and grateful that her colleagues and family decided to honor her in this way."