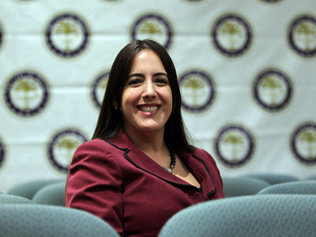 Miami Law alumna Victoria Mendez was recently appointed the new City Attorney for the City of Miami. Mendez has worked for the city since 2004 and says she's honored and excited about this opportunity. "I worked under some great City Attorneys and wondered if I could ever hold such a position," she said. "Determination and hard work pays off though, and here I am today."
Mendez's job will entail being the chief legal counsel for the largest municipality in Miami-Dade County with over 440,000 residents. She will provide legal advice to the Mayor and City Commission and run an office of over 20 attorneys and nearly 40 staff. She will also oversee the review of contracts, drafting of legislation, and law suits filed against and on behalf of the City of Miami.
The position, however, does not come without its challenges. The Miami City Commission has been vocal about its concerns that the City Attorney's office has not been functioning as well as it should. Mendez accepts this challenge with fierce commitment. "I believe with the changes I will implement in the coming months will excite our Commissioners and the office will achieve the next level of success, as started by former City Attorney Julie O. Bru."
Mendez says Bru became her mentor and played an integral part in her development early in her career. She has had many professional accomplishments, including serving as President of the Cuban American Bar Association and several Top Government Attorney honors in South Florida.
The 1999 Miami Law graduate says she never imagined this much success in her life. "I do remember when I was a law student, I thrived on all the opportunities Miami Law gave me: HOPE, Student Government, HLSA, Criminal Law Society, Bar and Gavel, Iron Arrow, etc.," she said.
Mendez still has strong contacts at Miami Law today. "The Alumni Association and Georgie Angones, Therese Lambert, Dean Lennon, and Dean White keep tabs on me. What other school does that? Only Miami Law; there is nothing like Miami Law." Advice for the future lawyers currently still in school? "Network! Network! Network! Take every opportunity to meet future employers."
Mendez officially began her job as City Attorney on Monday, September 30th.