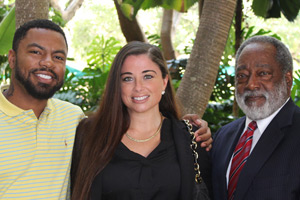 Miami Law's Black Law Student Association (BLSA) hosted a forum last week with local civil and social rights advocates to inspire students to embrace social activism and take a stand against injustice. Parks and Crump attorney Jasmine Rand, Dream Defenders Executive Director Phillip Agnew, and noted trial lawyer H.T. Smith, JD '73 shared their personal experiences to let students know they too are capable of being community leaders.
After graduating from the Florida A & M University business school, Agnew began a career in pharmaceutical sales. However, Agnew came to understand that service was more important than making money at a job he disliked.
"Some people are so poor that all they have is money," said Agnew. "Law students should aspire to be great attorneys, but your duty as a human being is to act justly according to your moral code."
Agnew is now pleased to impact the lives of others with the Dream Defenders, an organization comprised of students, teachers, lawyers, and community members that campaign to end prison privatization, racial profiling, and zero tolerance policies in schools.
Smith and Rand shared similar stories. Smith's dedication to philanthropy was inspired by Nelson Mandela's Free South Africa Movement, and he later founded the Black Lawyers Association where he incorporated philanthropy as a core principle. "If you are happy because you give, you will always be happy because you can always give," Smith said.
Rand, a native of Vermont, expressed that despite growing up around little to no racial diversity, her multicultural education has helped her appreciate differences and advocate for civil rights. It is no coincidence that Rand worked closely with the family of Trayvon Martin during its trial.
The panelists agreed that attorneys can make social advocacy integral to their lives, regardless of the nature of their practice or size of their law firm. "Even individual attorneys can give back by having ingenuity and caring to do so," said Rand. She also believes that large firms have social advocacy responsibilities. However, because many large firms represent the government and big companies they are challenged with a conflicting interest in social justice.
Smith encouraged students to strategically formulate messages to broaden the advancement of the cause. He analogized this sentiment by highlighting the difference in public support when the message of "for or against gay marriage" shifted to "for or against marriage equality," and again when transforming the message from "for or against abortion" to "pro-choice."
The discussion was led by BLSA President and 2L Jordan Hadley.