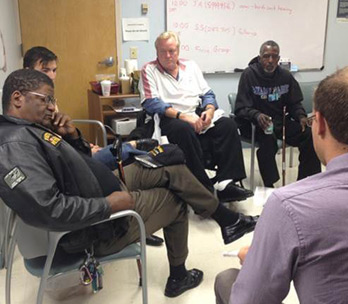 Health Rights Clinic student Danny McDonnell, 3L, first met his new client, Robert Barker, in the game room of the Miami Veterans Affairs Hospital. Unsure of what to expect during the initial meeting and since it was his first-ever client encounter, McDonnell arrived early, "hoping desperately that those final few minutes of preparation would somehow calm my nerves."
After he sat by himself a few minutes Robert rolled himself and his wheelchair through the game room entrance way. After exchanging introductions and pleasantries, they soon began discussing Robert's Social Security disability case.
"Within minutes of our initial meeting, I knew literally only one thing: Robert loved to talk," said McDonnell. "Words and sentences spun off Robert's tongue as if he were afraid they were going out of style. To this day, I am thankful for having such an open and candid first client. He made my job that much easier."
As the semester progressed, so did Robert's disability case. Robert's case was scheduled for a hearing before a Federal Administrative Law judge, and the case quickly became the center of McDonnell's attention.
"I spent hours with Robert preparing and practicing for his hearing. Strangely, the more we rehearsed, the more I became certain of one thing: the only obstacle that would prevent Robert from receiving disability benefits was Robert."
As a proud military veteran who spent his entire life working, it was difficult for Robert to admit that he was disabled and that he could no longer work. This was no easy task for a man suffering from a multitude of conditions and having endured the corresponding treatments.
On the day of his hearing, Robert told McDonnell that he was in awe of the paperwork and evidence that Danny had assembled on his behalf – close to three thousand pages. After rolling himself into the courtroom, McDonnell and Robert took their places behind the claimant's table. This was the day McDonnell had been anxiously awaiting for nearly three months and the day Robert had been nervously anticipating for almost a year and a half.
Within twenty minutes the hearing was over and Robert was awarded a fully favorable decision on the spot. Within two months, Robert received and cashed his first check. When asked about his first purchase, he replied, "I bought a $25 Casio watch and it feels like I just bought a Rolex."
Robert's innate desire to give back has also helped inspire the Clinic's initiation of a new "TimeDollar Project." The "TimeDollar Project" is a veteran, peer-to-peer volunteer program which allows veterans to help and empower other veterans to navigate the legal process.
The Health Rights Clinic is a one year clinical opportunity that is part of Miami Law's clinical offerings. Students participating in the Clinic represent multiple clients in different legal matters related to health. Interested students should apply in the spring.