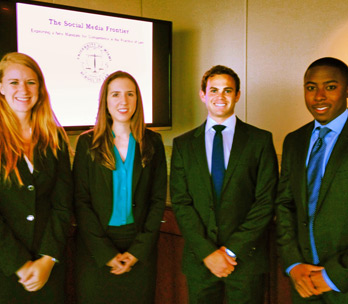 Students from Miami Law's Professional Responsibility & Ethics Program (PREP) – Christina Flatau, Danielle Singer, Julien Apollon, and Jackson Siegal – presented a CLE Ethics program for the University of Miami Law Alumni Association at its recent Miami-Dade Judicial Reception.
Under the guidance of PREP director Jan Jacobowitz, the students created hypotheticals that presented issues for discussion on hot topics such as Florida's new rules for attorney advertising on social media, use of social media evidence, cloud computing, and online research of jurors.
Approximately ninety distinguished alumni attended the highly interactive program, which discussed the impact of the new advertising rules on law firm websites and social media pages; ethical issues inherent in advising clients to clean up their social media accounts; the potential hazards of the use of free WiFi in public spaces and cloud computing; and the need to research jurors before and during trial.
"It was a rewarding experience and a great opportunity to meet alumni," remarked Siegal, a PREP intern, after the event. Apollon added that "it was an honor to discuss our findings regarding the relationship between legal ethics and social media in front of such a successful group of Miami Law alumni."
Flatau, a fellow in the program, remarked, "I enjoyed learning about how these cutting-edge issues are effecting the daily practice of law and discussing these issues with an esteemed group of alumni." Singer, also a fellow in PREP, added, "Presenting to such a large group of Miami Law Alumni Association was a great opportunity. The interactive nature of our presentation provided insight into the practice of law and it was interesting to continue the discussion of the social media issues with many distinguished Miami Law alumni at the reception."
The feelings seemed to be mutual as Jacobowitz received compliments about the students throughout the evening and commented that, "It's terrific when our students have the opportunity not only to meet alumni, but also to demonstrate their knowledge and poise through an interactive ethics presentation. Academia meets the real world of practice and the discussion is enlightening for everyone in the room."
PREP is an award-winning program that allows students at Miami Law to create and present CLE trainings for legal professionals. Established in 1996, students in the program have dedicated countless hours to public service, educating thousands of members of the Florida Bench and Bar. In 2012 the ABA recognized PREP with its E. Smythe Gambrell Professionalism Award, the leading national award recognizing programs and projects contributing to the understanding and advancement of professionalism among lawyers.