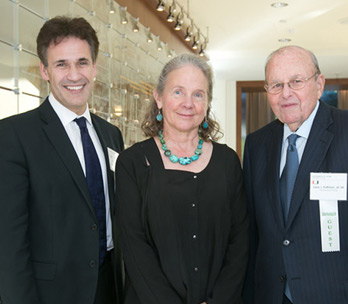 "The legal world is entering a period of fundamental and irreversible change driven by cost pressures, new competition, and emerging technologies," said Professor Richard Susskind, who delivered a series of lectures based on his book, Tomorrow's Lawyers. "Legal services will change more in the next two decades than in the last two centuries," he said during his visit to Miami Law on October 30th.
Susskind is an author, speaker, and independent adviser to major professional firms and to national governments. His main area of expertise is the future of professional services and, in particular, the way in which IT and the Internet are changing the work of lawyers. He is President of the Society for Computers and Law, IT Adviser to the Lord Chief Justice of England, and Chair of the Advisory Board of the Oxford Internet Institute at Oxford University.
"It is very important to have someone of Susskind's stature talk to our students and faculty about the very different legal services landscape which is emerging quickly and is likely to characterize the decades to come," said Miami Law Dean Patricia D. White. "Complacency is a dangerous thing."
The Larry J. Hoffman, Greenberg Traurig Distinguished Professorship in the Business of Law, established by Greenberg Traurig to honor Miami Law alum Larry J. Hoffman, made Susskind's visit possible.
"Susskind has written two of the most important books on the subject of the significant changes the legal profession is facing, Tomorrow's Lawyers (2013) and The End of Lawyers?(2008)," said Hoffman. "For more than 20 years he has addressed and forcefully advocated ways for the legal profession to prepare for the future. He is a visionary that has a rare depth of knowledge about the business of law."
Hoffman, JD '54, is Founding Chairman of the Board of Directors and Executive Committee of Greenberg Traurig. Having practiced in the areas of corporate, securities and banking law for over 40 years, he has devoted most of his time and effort in the last 15 years to participating in the active management of the firm and is a well-known student of and authority on law firm management.
"By establishing the Distinguished Visiting Professorship in the Business of Law, the University of Miami School of Law is now a leader among law schools in focusing on the business of law," said Hoffman, "which I believe is an very essential part of the education of lawyers."
"I am calling for the leaders in the legal sector to think deeply about their legacy and the next generation of lawyers, and to society because their temptation will be to try to hold out until retirement without making any change," said Susskind. "The legal world will look wildly different than it does today and it won't be the world of Rumpole of the Bailey, Suits, and John Grisham. Lawyers who refuse to change are unlikely to survive."