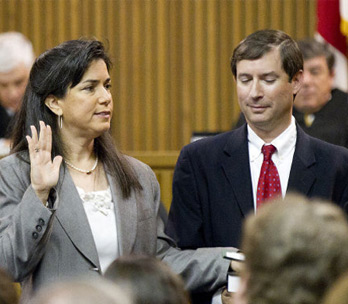 Judge Robin S. Rosenbaum, JD '91, was recently nominated by President Barack Obama for a seat on the United States Court of Appeals.
"Judge Rosenbaum has a long and impressive record of service and a history of handing down fair and judicious decisions," said President Obama. "She will be a thoughtful and distinguished addition to the 11th Circuit, and I am extremely pleased to put her forward."
Judge Rosenbaum, who has served as an adjunct faculty member at Miami Law since 2009, is a United States District Court Judge in the Southern District of Florida, a position she has held since her appointment in 2012. From 2007 until her confirmation to the district court, Judge Rosenbaum served as a United States Magistrate Judge for the Southern District of Florida. From 1998 to 2007, she was an Assistant United States Attorney in the same district, where she served as Chief of the Economic Crimes Section in the Fort Lauderdale office beginning in 2002.
"Judge Rosenbaum continues as one of the most distinguished members of the adjunct faculty at the University of Miami School of Law," said Douglas K. Bischoff, Associate Dean for Adjunct Faculty. "I congratulate Judge Rosenbaum on behalf of the Law School. She will continue to make us proud."
Before joining the U.S. Attorney's office, Rosenbaum clerked for Judge Stanley Marcus on the U.S. Court of Appeals for the Eleventh Circuit in 1998. She worked as a litigation associate at Holland & Knight from 1996 to 1997, and served as staff counsel at the Office of the Independent Counsel in Washington D.C. from 1995 to 1996.
She began her legal career as a trial attorney at the Federal Programs Branch of the U.S. Department of Justice from 1991 to 1995. She graduated magna cum laude in 1991 from Miami Law and received her undergraduate degree in 1988 from Cornell University.