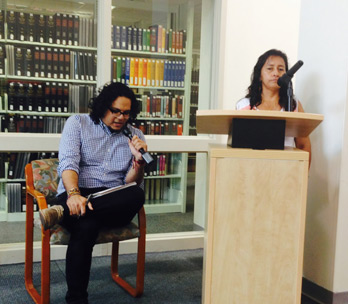 Lila Peña Silva claims that she was neither born nor trained to be a human rights defender. But the Colombian wife and mother found herself suddenly thrust into that role after she became a self-described "victim of state-sponsored violence." In a recent talk at Miami Law, Peña shared both her painful story as well as her thoughts about a more hopeful and just future for her country.
Peña began her story in the Magdalena Medio region of Colombia, where she witnessed the murder of her husband more than a decade ago. After his death, her search for justice was met with inaction and threats. Instead of finding assistance, she was forced to take her children and flee to another city for protection. Shortly thereafter, her brother was also attacked and disappeared. His body was found more than a year later. It was the result of these tragic events that Peña decided to take action on behalf of the many other victims of human rights violations in Magdalena Medio.
Like Peña and her family, the primary victims in Colombia's decades-old conflict between the guerrilla groups, paramilitaries and state forces are often civilians, such as rural peasants and indigenous and Afro-Colombian community members. Despite the current and past peace processes, these victims are often forgotten and the crimes against them go unpunished.
After witnessing the lack of protection for victims and the impunity for perpetrators of human rights violations, Peña met with other survivors to discuss how they could reclaim their rights. Out of this collaboration, she founded the Regional Association of Victims of State Crimes in Magdalena Medio (ASORVIMM for its Spanish acronym). She is still the director of the organization and works to "make sure that the victims' voices are heard."
Peña is encouraged by the prospect of the peace talks between the government and the FARC (Revolutionary Armed Forces of Colombia) guerrillas. However, she affirmed that incorporating other armed actors into the talks, fully dismantling lasting paramilitary structures, providing accountability for state crimes, and creating a truth commission are some of the aspects advocates believe are necessary for full and lasting peace and justice in Colombia.
She was accompanied on her speaking tour by Omar Martinez of the Latin American Working Group. Peña's talk was hosted by the Human Rights Clinic .