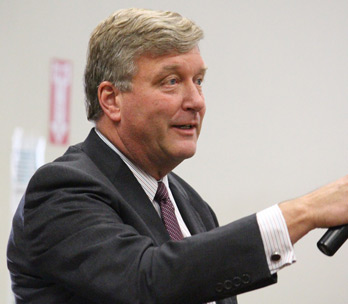 Scenes resembling a lawyer-fueled reality show – lawyers threatening fistfights and expletive-laced emails between counsel – were the impetus for a presentation by theAmerican Board of Trial Advocates (ABOTA) to more than eighty students in Litigation Skills - Miami Law's highly acclaimed program where experienced trial lawyers and judges teach hands-on training and practical skills necessary for competent professional legal service.
The program, Civility Matters, was developed by the national ABOTA and has been delivered to Miami Law Lit Skills students twice a year since 2010 by representatives of the Miami chapter.
The 90-minute curriculum was fielded by Miami ABOTA President Steven Kellough and President Elect Michael Mullen, J.D.'80. Clips exemplifying a multitude of scurrilous behaviors by attorneys were shown and then questions were thrown out to the students to examine and address.
"The Miami Chapter provides Civility and Professionalism presentations to area law schools in the hope that we can encourage law students to practice law civilly and professionally and with the greatest respect for our profession," said Mullen. "The importance of this approach cannot be overstated. In September 2011, citing the efforts of ABOTA, the Florida Supreme Court revised the Oath of Admission to The Florida Bar to include a pledge of 'fairness, integrity, and civility' to opponents, not only in court, but also 'in all written and oral communications.' In June 2013, the Court directed each circuit to develop a plan to receive and resolve professionalism complaints."
Mullen has been the managing partner of Gaebe, Mullen, Antonelli & DiMatteo since 1988. The Gaebe Mullen firm sponsors a scholarship at Miami Law for a Lit Skills student fellow. Mullen is a successful trial lawyer having tried more than 100 cases. He is a member of the American Bar Association, the Coral Gables Bar Association, the Dade County Bar Association, The Florida Bar, the American Society of Law & Medicine and the Third District Court of Appeal Historical Society. He is an Advocate with the American Board of Trial Advocates, a Fellow of the Litigation Council of America, Order of Justitia, and a Member of the Council on Litigation Management.
"We were very impressed with the caliber of the UM students who participated in the presentation today and their perspectives on civility and professionalism," said Kellough. "Their insights and responses to questions reflected an acute understanding of the professionalism issues they may confront and the wise choices they can make in dealing with these issues. We always leave impressed and today was no different. We heard no 'bad' ideas. Each student volunteer expressed a mature and reasoned method of dealing with uncivil and unprofessional situations, whether confronting the issue directly or using more subtle means of persuasion. The students have learned well under Professor Rose's tutelage," said Kellough.
Kellough has been an experienced trial lawyer for more than 30 years, handling commercial and personal injury related litigation. He is a member of the Southern District of Florida Federal Trial Bar, American Board of Trial Advocates and the Miami-Dade County Bar Association.
ABOTA is a national association of trial lawyers and judges dedicated to the preservation and promotion of the civil jury trial right provided by the Seventh Amendment. ABOTA requires its members to be responsible for elevating the standards of integrity, honor, ethics, civility and courtesy in the legal profession. The Civility Mattersprogram is an effort to promote the first specific purpose in ABOTA's constitution: "To elevate the standards of integrity, honor and courtesy in the legal profession." ABOTA created Civility Matters with the hope that the program would be presented at all ABOTA educational activities, other bar and professional programs, and, especially, in every law school in the country. ABOTA gives a $1,000 award to a minority lit skills student every spring semester.