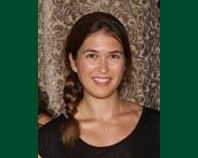 Third year law student Charlotte Joseph Cassel was recently selected to receive a prestigious fellowship from Equal Justice Works, the nation's premier nonprofit focused on placing attorneys in public interest law opportunities. Each year the Equal Justice Works fellowship competition selects qualified and passionate lawyers who have developed new and innovative legal projects that can impact lives and serve communities in desperate need of legal assistance. Cassel will do her fellowship at Florida Legal Services.
The two-year fellowship, set to begin in September 2014, will allow Cassel to help low-income Floridians receive health care. "It is an incredible honor to be selected as an Equal Justice Works fellow," said Cassel. "Together with Florida Legal Services I had the chance to create my dream project, and luckily, Greenberg Traurig and The Florida Bar Foundation were as excited as I am to help low-income Floridians access health care."
A Miami native, Cassel, who graduated from Barnard College in 2007, moved to San Francisco to work in the research unit at the AIDS Health Project, a mental health care organization dedicated to providing culturally sensitive services to men in the bay area. In 2009, she returned to New York to complete a Masters in Public Health at Columbia University. At Columbia she studied population and family health, with an emphasis on reproductive health.
She is currently a student attorney in the Human Rights Clinic and an intern at Florida Legal Services.
A Miami Scholar, Cassel has worked at VIDA, an organization that provides legal services to immigrant women who have been victims of domestic violence, and interned at the Planned Parenthood Latin American Regional Office during the spring 2013 semester.
She recently completed an internship in the Health and Reproductive Rights unit at the National Women's Law Center, in Washington, D.C. Cassel is on the executive board of the UM chapters of both Law Students for Reproductive Justice and the National Lawyers Guild.
"This is the most important moment in health care in nearly 50 years, and I look forward to being an integral part of it," said Cassel. "None of this would be possible without theHOPE Public Interest Resource Center and the many professors who have challenged, encouraged, and supported me over the past few years."