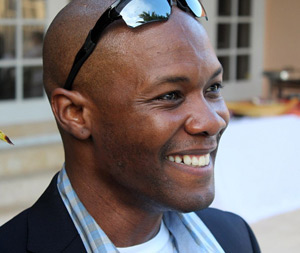 "Stay humble but stay hungry" are words Rico Williams lives by. The 31-year-old Brooklyn Heights native with the brilliant smile has honored that ethos during his years at Miami Law, quietly amassing a breadth of knowledge across myriad areas of study.
Williams – his first name is Orbestes, but everyone uses the middle one – has a lot to smile about these days. His third child, a daughter named Edyn, was born on May 5, and after graduation he's headed to California for a job at Apple, as one of the attorneys in the office of the in-house counsel. And he's graduating in the top third of his class.
At Miami Law, he was first drawn to contracts and then to intellectual property. Dean Patricia D. White's Elements class had a profound effect. He immersed himself in STREET LAW and LawWithoutWalls while working toward a joint degree – a J.D./Masters in Music Business and Entertainment Industries.
Williams attended St. Peter's Preparatory School in Jersey City, N.J., before obtaining degrees from George Washington University in International Relations and from Florida International University in Geography, with a concentration in Latin American and Caribbean Studies.
"I came from a liberal family," Williams said. "My parents were cutting-edge in their thinking as far as adaptability and looking at different aspects of the world." At the dinner table, everyone weighed in – it was like "the Socratic method meets Bretton Woods," he recalled. His father retired as an ATT executive, while his mother is in management at Pinkerton Government Services, the security and detective agency. His three sisters and brother are in everything from accountancy to medicine, but Rico is the only lawyer in the lot.
Before coming to Miami Law, he worked for the Department of Defense's U.S. Southern Command as an Information Technology/Management Officer, assessing security threats and web development, and received the Army Achievement Medal for Civilian Service. Before that, he had top-secret clearance as Executive Assistant to the Deputy Commanding Officer for the U.S. Army, serving 50 Latin American countries and territories. In that job, he was awarded the Army Meritorious Service Medal and Joint Service Commendation Medal.
While at Miami Law, Williams said his work at the Miami Substance Abuse Treatment Center was the most rewarding; he first served there as an intern through STREET LAW, and later as a Fellow. He was listed in Who's Who in American Universities and Colleges, was a Dean's Fellow and was on the Dean's List. He received awards from the Center for Computer-Assisted Legal Instruction and a Certificate of Achievement in Legal Research. Williams was selected for the Shook, Hardy & Bacon LLP Writing Program and was on the Charles C. Papy Jr. Moot Court Board. He is a member of the Honor Council, the Black Law Students Association, the Entertainment and Sports Law Society and the Intellectual Property Law Society, and is a Phi Delta Phi. He was a research assistant for Associate Professor Michele DeStefano, with whom he also worked closely as a participant in LawWithoutWalls.
"My resume would suggest that I'm a shut-in, that I stay in the books," he said. "I'm very untraditional and I think that is why I've done well in this environment. I'm always looking for something bigger and brighter than what is in front of me now."
Williams will be as gifted and agile a lawyer as he has been a musician. He sings and plays piano and percussion, and goes for various genres of music, from hip hop to rock to jazz to classical, touring locally with bands and producing a respectable quantity of recordings.
He credits Miami Law with paving the way to his destiny. "I realized here, I could couple my passions in the arts with a legal profession," he said. "The person that I was entering law school and who I am now that I am graduating law school are two different people. I've learned that thinking like a lawyer means being multi-faceted, and just because you have to fight for a client doesn't mean you can't fight for what you believe at the same time."