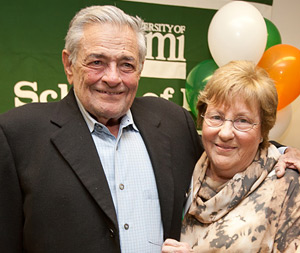 The late Martin J. Nash's family and friends have established a scholarship in his memory at Miami Law, his alma mater. Nash passed away in February after a long and distinguished career as a tax attorney.
The Martin J. Nash Memorial Endowed Scholarship Fund will provide financial assistance to students in the Graduate Program in Taxation, and the recipients will be known as Martin J. Nash Scholars.
"The law school was important to Marty, and Marty was very important to the law school and particularly the Graduate Tax Program," said Patricia A. Brown, Director of the Graduate Program in Taxation. "This wonderful legacy will support some of our best students as they prepare to make their own mark on the practice of tax."
A native of Miami Beach, Nash was a two-time alumnus of the University of Miami. He received his accounting degree in 1958 and his J.D. degree in 1961. While a student at Miami Law, Nash was the research editor for the University of Miami Law Review. He was also a member of Omicron Delta Kappa, Wig and Robe Honor Society, and the Iron Arrow Honor Society.
He began his career of more than 50 years by working for the Internal Revenue Service in Dallas and Houston. He returned to Miami in 1966, where he became the first associate of Greenberg Traurig. In 1974, Nash became one of the founding partners of Schwartz, Nash, Heckerling and Tescher, P.A., and remained in the active practice of tax law for the remainder of his life, including his last firm, Nash Axman Watkin, PLC.
Nash was recognized as "Tax Lawyer of the Year" by the Tax Section of the Florida Bar and served on the Advisory Board of the Heckerling Institute on Estate Planning. He also taught for many years in Miami Law's Graduate Program in Taxation and the Heckerling Graduate Program in Estate Planning as an adjunct professor, and trained and mentored many attorneys. He was considered to be among the most creative tax lawyers in the country and his clients benefitted from his knowledge, counsel and integrity.
More on the Graduate Program in Taxation
More on the Heckerling Graduate Program in Estate Planning