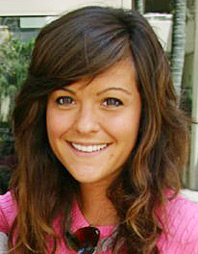 While attending the kick-off of LawWithoutWalls' academic year at IE University in Segovia, Spain, Miami Law student Erika Concetta Pagano was invited to give a lecture to a comparative contracts class at the university's campus in Madrid. The invitation was extended by Professor Pedro Letai, an IE faculty member who led its participation in LawWithoutWalls.
Pagano, who had participated in LawWithoutWalls during its second year and returned to assist in the launch of the third, taught a group of first-year LL.B. students in Madrid.
"It is my long-term goal to teach, so I was excited and thankful for the opportunity to deliver my first lecture – especially abroad at a globally-minded, forward-thinking institution like IE," said Pagano, the managing editor of the University of Miami Law Review.
Pagano led the group in a series of improvisational exercises to demonstrate the impact of fraud and truthfulness, and introduced the concept of consideration, which is foreign to Spanish civil law. Before the lecture, Pagano and Professor Letai met with Miami Law Professor Fred McChesney, who has a longstanding relationship with IE University and who was also at the Segovia conclave, to gain his perspective on what she would be discussing.
In addition to their collaboration in LawWithoutWalls, IE University and Miami Law have an ongoing exchange program.
"I hope this is the first of many visits to IE," said Pagano, who earned her undergraduate degree from Georgetown University's Edmund A. Walsh School of Foreign Service and who expects to graduate from Miami Law in May. "In the near future, I'd like to deepen the connection between our two universities by lecturing for a longer period of time."