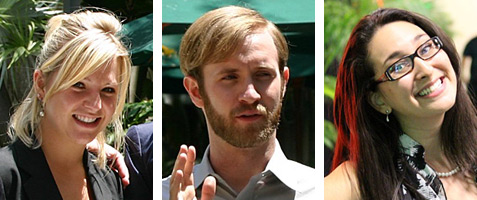 From left, SBA President-elect Jenna Winchester, SBA Treasurer-elect Chris Brennan, and SBA Secretary-elect Sara Solano. (Photos: Nick Madigan/Miami Law)
Dean's Fellow Jenna Winchester is to become the President of Miami Law's Student Bar Association when the gavel is passed to her on April 1.
The election, the results of which were released on Friday, also elevated Bridget Schultz to Vice President. The other winners are Chris Brennan, Treasurer; Sara Solano, Secretary; Holly Keith, Historian; and Kevin Yombor, the ABA Representative.
The elected second-year Senators will be Alyssa Landino, Leah Aaronson, Lance Stephan, Thomas Hospod, Andrea Martinez and Rina Urias-Brizuela. The 3L Senators will be Claire Rumler, West Kraemer, Lia Calabro, Christopher Machado, Paige Reese and Frank Sardinha.
"I would like to take this opportunity to thank the Election Commission for their tireless and diligent efforts this week to oversee this election," Dean of Students Janet E. Stearns wrote in a message to the law school community. She singled out the following for their help: Jasmine Brigham, Ashley Jordan, Jessica Johnson, Jeremy Kahn, Denise Roberson, Alex Uribe and Christine Job.
The vote tallies have been certified and have been posted on the windows of the Alma Jennings Foundation Student Lounge for review.