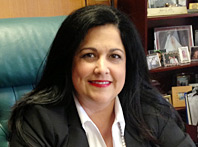 Bertila Ana Soto, J.D.'89, an adjunct professor at Miami Law, has been elected Chief Judge of the Eleventh Judicial Circuit of Florida, which serves Miami-Dade County. Her election is historic, as she is the first female chief judge of the circuit as well as the first Hispanic and the first Cuban-American.
Judge Soto was elected to a county court judgeship in 1996, elevated to the circuit bench by Gov. Jeb Bush in 2002, and re-elected without opposition in 2004 and 2010. She is a former prosecutor with the Dade County State Attorney's office.
For Judge Soto, the Eleventh Circuit is deeply familiar. She often accompanied her father, Osvaldo Soto – a Cuban lawyer, Bay of Pigs veteran and founder of the Spanish American League Against Discrimination – to courthouses around the county. She began clerking in his office as a freshman in high school. "I feel like I grew up in the Eleventh Circuit because of my dad," Judge Soto said. "It feels like home."
Another connection to the Eleventh Circuit was Judge Soto's first husband, Judge Jose L. Fernandez, J.D.'89. Their 20-year-old daughter is studying at Florida State University and is in the process of choosing a law school. Judge Soto is now married to a Miami-Dade police detective.
"Going to Miami Law was phenomenal," Judge Soto said. "The lit skills was the best class I ever took. The University of Miami is my second obsession, after my child. I sit on a UM throw, my clock in my chambers is 'UM time,' and if you come to sidebar in my courtroom, you stand on a Sebastian rug. Everyone knows I am unavailable on Saturdays during football season."
Judge Soto is an adjunct professor for the Litigation Skills program. While a student at Miami Law, she was in the Trial Advocacy program, the Hispanic Bar Association, the Hispanic Law Student Association, the Society of the Bar and Gavel, and the Honor Council.