Before law school, Miami Law student Rob Bernstein considered becoming a veterinarian. (Photo: Emily Horowitz/Miami Law)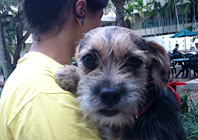 More 50 humans and about 100 of their four-legged friends, ranging from Chihuahuas to German Shepherds, gathered on the Bricks at Miami Law last month to participate in the law school's first "Walk the Dog" event.
The walk, organized by the Society of Bar & Gavel and the Student Animal Legal Defense Fund, was a community service project for the Dean's Cup, an annual competition between Miami Law and UM's Leonard M. Miller School of Medicine. Participants were urged to make a donation or could purchase raffle tickets, with proceeds to benefit The Seeing Eye, the world's oldest school for service dogs. The law school raised more than $700 from the event.
When second-year law student Rob Bernstein heard about the dog walk, he was excited to participate. "I've always loved animals, especially dogs," he said. "Before I ultimately decided to go to law school, I planned on becoming a veterinarian. So the idea of the walk-a-thon just sounded like it would be fun."
Forty of the dogs were brought to the event by the Friends Forever Humane Society, and were provided to people who did not have their own dog to walk but still wanted to participate. As a bonus to the entire affair, several dogs were either adopted or placed in foster homes.
"Money was raised for a great animal-related organization and the shelter dogs received some much-needed attention and exercise," said Morgan Nati, a second-year student and President of the Student Animal Legal Defense Fund. She added that her group was "wholeheartedly thankful to all those who participated and donated."
Having worked closely with Brian Stewart, the President of Bar & Gavel, on planning the day, Mia Logan, 2L, was pleased afterwards. "Walk the Dog was an excellent opportunity to further animal welfare," said Logan, SALDF's Vice-President of Community Outreach. "Not only did we raise money for the oldest existing guide-dog school in the world, we socialized and encouraged adoption of homeless dogs in the Miami area."
Given the event's success, all human hands and furry paws are on board for another dog walk next year.