PREP students Christina Flatau and Danielle Singer, Gwen Cherry Bar Association members, Nexcy De La Rosa-Monroe and Nneka Uzodinma, and Miami Law student James Lechter. (Photo: Miami Law) 
Students in Miami Law's Professional Responsibility & Ethics Program wrapped up the semester with CLE ethics trainings presented to the Cuban American Bar Association and Gwen S. Cherry Black Women Lawyers Association.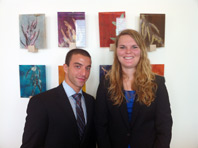 The Cuban American Bar Association hosted law students Matan Scheier and Stacy Byrd, whose presentation covered the ethical issues related to the use of Metadata and cloud computing, and how Florida's new advertising rules affect attorney usage of social media. The attorneys quickly became engaged, posing questions about the practical usage of cloud computing and sharing ideas about how to utilize the technology without violating the Rules of Professional Responsibility.
"We had a highly engaged group of attorneys at this presentation, which resulted in an interesting discussion about how the new advertising rules will be interpreted and how they will affect attorneys' personal social media pages," said Byrd.
Students Christina Flatau, Danielle Singer, and James Lechter facilitated a discussion about social media networks, including Facebook, LinkedIn, and blogs, and how to appropriately incorporate this technology into the practice of law to The Gwen Cherry Association. Many of the attorneys posed questions and offered their opinions based on scenarios they had heard of or experienced in their own practice.
"I enjoyed how the presentation was so interactive and how all of the attorneys were so engaged," said Singer. "All of those present seemed to be truly concerned about the effect of evolving technology on their practice."
Flatau further commented that "it was fascinating to hear what experienced, well-respected attorneys such as the Miami-Dade Public Defender, Carlos Martinez, had to say about how these cutting-edge technology issues are affecting the daily practice of law."
PREP, a 2012 recipient of the American Bar Association's Smythe E. Gambrell Award, was established in 1996 as an in-house program within the Center for Ethics and Public Service at Miami Law. Run by Director Jan Jacobowitz, PREP's programming originated as an outgrowth of a collaborative effort with the nonprofit legal community to provide training on ethics issues arising in the context of serving the underprivileged. PREP has expanded to present ethics training to lawyers working throughout the legal profession in venues ranging from small gatherings at nonprofit offices to large bar association meetings and national webinars.