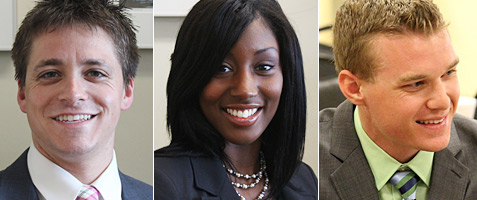 ABA leaders from left to right: Kevin Yombor, 3L; Shekida Smith, 2L; Andrew Orcutt, 2L. (Photos by Catharine Skipp and Nick Madigan/Miami Law).
Three Miami Law students will be applying their dexterity to their recently accepted leadership positions within the American Bar Association (ABA). Second-year student Shekida Smith has been appointed National Student Director for the ABA Law Student Division's National Appellate Advocacy Competition (NAAC) Subcommittee. Another second- year student, Andrew Orcutt, was selected as one of seven law students in the nation as a representative in the ABA Intellectual Property Law Student Reporters Program. Third-year student Kevin Yombor has been voted the ABA Executive Lieutenant Governor of the 5th Circuit. Each lawyer-in-training looks forward to the challenges incumbent in their respective positions.
"I was extremely honored to be selected to serve as a National Student Director," said Smith, who is also an intern at Carlton Fields and a Dean's Honor Scholarship recipient. "My interest in contributing to the ABA programming, coupled with my interest in the subject matter of the competition I will be organizing certainly made the position appeal to me. I greatly look forward to the coming year."
Smith's selection epitomizes her academic and professional diligence as her liaison position was extremely competitive due to the high volume of exceptionally qualified applications received by the Division.
Orcutt is no stranger to leadership and service. He was recently elected President of Miami Law's Entertainment and Sports Law Society, and he volunteers with the Arts and Business Council of Miami providing pro bono legal services to aspiring artists.
"I'm very much looking forward to connecting with attorneys who practice Intellectual Property Law, as well as increasing my knowledge of the complex and ever-changing field," he said. "I hope to bring excitement and energy to this great ABA program and I plan on representing 'The U' to the best of my abilities."
Despite entering the home stretch of a demanding law school career, Yombor is excitedly committed to fulfilling his obligations with superiority.
"What made me apply for this position is that I don't like to sit on the sidelines," said Yombor. "I will bring dedication to improve the ABA so that it continues to represent students' best interests. I am hoping that through this experience Miami Law will receive more national recognition and that I will be able to implement programs that allow more students to become involved in the ABA, and in turn allow these students to secure employment post-graduation."