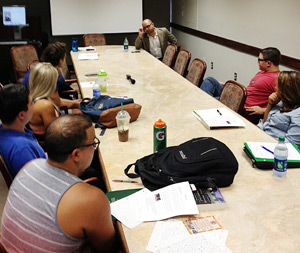 Award-winning journalist Trevor Aaronson visited a Miami Law class recently to talk about his recent book, The Terror Factory, and to give students advice as they pursue their own investigative articles.
Aaronson is co-director at the Florida Center for Investigative Reporting (FCIR), which announced a new partnership with the University of Miami in February. Aaronson spoke to students in the Courts Beat class, where students investigate a contemporary legal issue and write a magazine-style article about their research. He told students how to research court records and how to use them to describe the people involved in a legal conflict.
Aaronson also discussed his book, published in January, which details how the FBI has built a network of more than 15,000 informants whose purpose is to infiltrate Muslim communities to create and facilitate phony terrorist plots so that the bureau can then claim victory in the war on terror.
Prior to Aaronson's visit, students read his award-winning article, "The Informants," which led to the book.
"The partnership with FCIR gives students the opportunity to work with investigative journalists and to develop the skills that are so valuable to both lawyers and journalists: storytelling, researching, and writing," said Jill Barton, a Lecturer in Law and former reporter for the Associated Press who teaches the course.