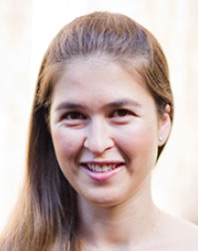 Ask Charlotte Cassel why she decided to attend law school and her answer is one at the forefront of today's legal and public policy – women's reproductive rights. "The relentless attacks on women's health are becoming more extreme every legislative session and I'm excited to have the opportunity to combine my public health background with my legal skills to work on an issue I am so passionate about," said Cassel.
This summer, Cassel couldn't be more excited to put her passion to work at the National Women's Law Center (NWCL) in Washington D.C. The center is dedicated to expanding, protecting, and promoting opportunity and advancement for women and girls with regards to health, reproductive rights, education, employment, and economic security.
The Miami Law 3L is working with the Health and Reproductive Rights Team, which protects and expands women's access to comprehensive health care on both the state and federal level. Cassel is also working on a project looking how the Hyde amendment, which prevents federal funds from being used for abortion except in the cases of rape, incest, or threat to life of the mother, is being implemented state by state.
Cassel first became interested in reproductive health policy while working on her Master's in Public Health at Columbia University. It was there she first learned about the National Women's Law Center and the work they were doing. "They are such a key player in the field, and my desire to be in a position to work at an organization like this was the main reason I decided to apply to law school," said Cassel. "It has been a really exciting time to work in the field of reproductive rights. To be sitting in the room when Trent Franks made his comment that 'the incidence of pregnancy resulting from rape is very low' was a pretty surreal experience."
As a Miami Scholar, Cassel credits the support she's received over the past two years from the HOPE Public Interest Resource Center office as instrumental in her placement this summer.
Cassel notes that courses such as "Feminism and the First Amendment" and "Constitutional Law II" with Professor Caroline Mala Corbin, "Administrative Law" with Professor Osamudia James, and "Regulatory State" with Professor Charlton Copeland, have provided her " with the substantive knowledge to hit the ground running on day one."
In addition to the NWLC, Cassel has worked in the past at the Aids Health Project in San Francisco, Planned Parenthood in New York City. She is currently on the executive board of the University of Miami chapters of both Law Students for Reproductive Justiceand the National Lawyers Guild.
Cassel intends to pursue a career in reproductive health policy, with an emphasis on policies and legislation that protect and empower women and their health.