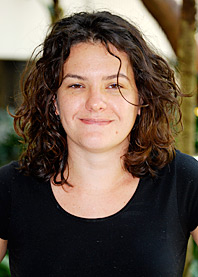 A couple of weeks ago, Miami Law 3L Marielle Moore, who is currently working at the National Center for Lesbian Rights (NCLR), had the chance to attend a White House briefing on issues that affect the transgender community. "I learned about all of the initiatives the Executive Branch is undertaking to promote transgender equality."
As a Summer HOPE Public Interest Fellow, Moore's position is as a policy clerk at the NCLR – a legal organization committed to advancing civil rights for those in the LGBT community through litigation, public policy advocacy, and public education. Moore's responsibilities include legal and factual research and writing related to policy advocacy; tracking developments in pending LGBT-related legislation; reviewing and analyzing pending regulations, policy proposals, and legislative language; and participating in various coalition meetings related to law and policy changes and proposals.
Last year, Moore interned at Miami Law's Children & Youth Law Clinic, which exposed her to legislative and policy advocacy. The clinic is one of the reasons Moore says she choose to work at the NCLR. "Until this summer, I envisioned becoming involved in policy and legislative advocacy much later on in my career." At the clinic, Moore represented children in foster care and former foster youth in dependency, health care, mental health, disability, independent living, education, immigration, and other general civil legal matters.
Building on her passion for public interest law, Moore spent her first summer as a legal intern at the Florida Justice Institute, a nonprofit civil rights law firm that handles major, systemic litigation involving wrongful convictions, disability-related discrimination, and class actions for indigent populations. There, she developed critical legal skills in drafting pre-trial motions, writing memoranda for senior attorneys, and coordinating the latest revision of the Older Floridians Handbook – a legal resource for the elderly.
All of Moore's experiences have helped guide Moore to where she is today in terms of her legal interests. "While I am still pursuing opportunities in the field of civil rights litigation, I am also open to becoming more involved in legislation and policy advocacy."