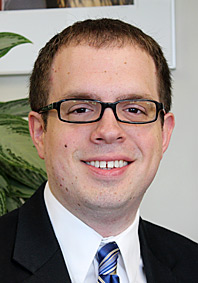 Miami Scholar Adam Hoock is putting his writing skills to the test this summer working side by side with the Honorable Jose Martinez in the United States Southern District Court of Florida.
"The internship with the judge has been very writing and research intensive. The techniques and styles we learned in LComm have been very useful in drafting orders and researching cases," says the rising 2L.
Hoock is working with the clerks to draft orders regarding motions for summary judgment, motions to dismiss, and reports and recommendations. He is also completing legal research projects assigned by the clerks.
The Illinois native chose this internship to gain exposure to a wide range of legal cases and topics. "I am not sure which area of law I want to practice, so this broad exposure to cases and attorney styles has been extremely valuable."
So far, Hoock says the most interesting thing he's learned from listening to the hearings and trials is that when a judge asks a question, he or she is looking for a short, straight-forward answer. "Many attorneys and witnesses ramble on, and the judge is quick to refocus them on answering the specific question asked of them. It is important to carefully listen to the question being asked and respond clearly, concisely, and appropriately."
While Judge Martinez has not given Hoock direct advice on practicing law at this point, Hoock says just "watching and listening to the proceedings in the courtroom have been excellent lessons on how to effectively (and not-so-effectively) be a legal advocate."
In addition to the courtroom, Hoock is also very interested in Immigration Law. This fall, he'll begin working with Miami Law's Immigration Clinic.
Immigration is a cause that's been important to him since college. "My Senior year at Notre Dame I taught English as a Second Language classes to Latino immigrants in the community and first became interested in the struggles of the immigrant community."
Hoock went on to work as an AmeriCorps paralegal volunteer for Immigrant Justice, working mainly with children.
He says he's excited about his new opportunity at the Miami Law clinic. "I look forward to continuing the fight for protecting and promoting the basic human rights of immigrants in this country.
After graduation Hoock is interested in pursuing a judicial clerkship and feels the experience he's gaining is helping to confirm those aspirations.