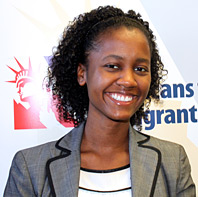 When it came to deciding what to do this summer, Miami Law 2L Kimberly Carpel says she wanted to do something meaningful and help make someone's life better. She's getting the opportunity to do so at the Americans for Immigrant Justice in Miami, FL or AI Justice – a nonprofit organization that represents people in immigration proceedings who have been detained, are unaccompanied minors, women in domestic violence, victims of sexual trafficking, and victims of violent crimes.
Carpel is one of a select group of rising 2Ls chosen for the HOPE Summer Public Interest Fellowship Program. The highly-selective program places students to work full-time at a public interest agency during the summer, while the students receive academic credit and a $2,500 stipend.
Carpel credits the HOPE Public Interest Resource Center as a big help in terms of funding and mental and emotional support. "By being a Summer Public Interest Fellow, I not only got funded for this internship, but I received a supportive group of people to share my experiences with and receive advice from."
At AI Justice, Carpel is currently working with the detention prevention program to help people get out of detention and help Haitian detainees who are seeking asylum to get released from immigration detention.
So far it's been quite the eye-opening experience for Carpel. "I have learned that immigration law has many faces and many stories. A lot, if not most of people in immigration proceedings, are not the un-American people that the news often portrays. In fact, a lot of immigrant detainees are people seeking the American dream."
Carpel became interested in public interest law after volunteering at Ronald McDonald House and Arbor House in college. Her experience at these organizations further developed her love to serve people and motivated her to seek a career in law where she could represent clients who are unable to fully and adequately advocate for themselves.
Her time at Miami Law has helped give her the context and foundation for her current internship. For example, Carpel says in her immigration law class, "I learned so much about the basics of immigration law that coming to AI Justice and hearing terms like UVISA and nonimmigrant status were not completely foreign to me."
Immigration law is one of the areas of law that Carpel is most interested in, and hopes to practice one day.