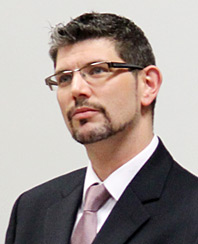 "My name is Theodore Importico but I prefer Tedd. I am, to classify myself, a 'non-traditional' student, which I have come to appreciate as meaning more than just 'not so young.' When the economy nearly collapsed in 2008, I was working as an underwriter in the mortgage industry (don't blame me – my supervisors approved all the loans I refused to sign). I woke up one morning and my job was gone and my industry along with it. Through good connections I got an interview at a foreclosure law firm in New Jersey (where I am from) and finally found my place in this world (at nearly 40 I thought that ship had sailed.) I literally started in the mailroom of my law firm and three years later I was transferred to Florida to help open our new office as a mediation and settlement manager. As grateful as I am for that, I wanted to do more. I had reached the point where if I were going to stay in law, I would have to be a lawyer. I am very grateful for the opportunity I have before me and even for the timing. I've got all the energy of the youngsters in your class, all the motivation of someone who knows the destination of the road he travels, and the experience to temper them both. I look forward to meeting you and getting to work! Safe travels."
A note to Professor Michael Froomkin before the start of his first semester began Tedd's brief but memorable turn at Miami Law. A pair of heart attacks on the morning of June 30th preceded his death on July 3rd, at Mercy Hospital, with his family all around him.
A native of Colonia, New Jersey, Tedd was a graduate of Ocean County College, in Toms River, N.J., with an Associate of Arts in History and a Bachelor of Arts in History from Rowan University in Glassboro, N.J. He had worked in the financial sector for thirteen years before entering the legal field with Urden Law Offices, eventually becoming a paralegal in Mediation and Litigation.
Tedd was so much more than what a resume or a transcript might suggest. He was both a merry and devilish prankster and a tenderhearted soul who could sense distress or sorrow in those around him.
"Tedd had an amazing ability to notice when somebody was in trouble," said his sister Lynne Importico-Knapp. "He seemed to know when someone needed help. He was giving, and did something important every day of his life."
It is not surprising the path that Tedd was following at UM. "He was interested in pursuing a career in family law; he wanted to help people and make a difference with his law degree," said Diane S. Quick, director of the Career Development Office. "He was a wonderful person."
As the youngest of four, Tedd spent countless hours listening to old records with his grandmother as a child and as a result knew all the standards of artists like Jerry Vale, Bobby Vinton, Engelbert Humperdinck, and many others. He carried his love of old songs with him throughout his life and his love of all things old may have been the genesis of his love of history. "He had an encyclopedic knowledge of just about any time period and participated in Civil War reenactments," said Lynne.
"I was deeply saddened to hear that Tedd Importico, a rising 2L student, suffered a heart attack and passed away last week," said Dean Patricia D. White. "Those who had the honor of knowing Tedd describe him as a kind and loving person with a warm smile and a commitment to making the world a better place."
True to his word to pursue a law degree at 40, Tedd invested heavily in his first year, preparing for classes, always sharp and geared up.
"Tedd was every teacher's dream. He was warm, friendly, always prepared and genuinely enjoyed the material," said Professor Kira Willig, who was teaching Tedd Family Law this summer. "He was witty beyond belief, especially to any student who sat in his immediate vicinity and was privy to most of his jokes. Students made a beeline to sit next to him in class.
"In our last class together, he took a perverse delight in playing Justice Scalia in a class exercise and received accolades from a visiting attorney for his skills in a mock mediation. I had the opportunity to meet his family and they were wonderful, even in grief, and I can see why Tedd was the remarkable person he was. I am sorry I could only know him for a short time," Willig said.
The ultraconservative Judge Scalia was not the only role that thrilled Tedd. Last spring he captivated audiences in his performance as Evan Wolfson, the gay rights advocate and attorney, in the staged reading of "8," a play about the landmark trial Perry v. Schawarzenegger surrounding marriage equality by the Academy-award winning screenwriter Dustin Lance. He wrote in his biography in the reading's playbill: "Tedd Importico is very excited to return to the stage for the first time in over twenty years. In high school, Tedd was an accomplished musician, composer, and appeared as Bert Healy in a summer stock production of Annie."
Tedd was also overjoyed at the Supreme Court's decision on June 26, when he posted on his Facebook page:
"IT'S OVER! WE WON! I CAN GET MARRIED! (now I just have to find someone to marry....)
Directly from the Supreme Court Opinion!!!!
THE MOST BEAUTIFUL WORDS I HAVE EVER READ.....
"When the State used its historic and essential authority to define the marital relation..., its role and its power in making the decision enhanced the recognition, dignity, and protection of the class in their own community. DOMA, departs from this history and tradition of reliance on state law to define marriage.
The Federal Government uses this state-defined class for the opposite purpose – to impose restrictions and disabilities. That result (is) injury and indignity – a deprivation of an essential part of the liberty protected by the Fifth Amendment."
"The one constant thing over and over and over I heard, from his frat brothers to others, was that knowing Tedd made them change the way they thought about homosexuality because he was just a guy; it changed their preconceived ideas about what being gay meant," said Lynne.
Tedd, 40, was a man embracing and relishing his future.
"Tedd came to law school with a flair for creative writing, and I was fortunate to see that talent in action in his legal writing course. For his final appellate brief, Tedd made some inspired arguments in favor of his client – a fictional radio station in Miami. He argued that a competing station committed tortious interference when it lured away a talented broadcaster," said Professor Jill Barton, who taught Tedd Legal Communication and Research Skills II this past spring.
"Tedd volunteered to be the very first student in his section to perform his appellate oral argument in April. His enthusiasm was no surprise – Tedd's easygoing nature allowed him to tackle this stressful highpoint of the 1L year with ease," she said.
"Tedd also was quick to show his sense of humor. When I met him in January, he joked that he had only a faint recollection of life before law school and all the swimming, volleyball playing, and kayaking that he used to enjoy.
"And when he finished his oral argument this spring, he was quick to show this less serious side. As soon as the official court proceeding ended, Tedd and his co-counsel, Brian Andino, unbuttoned their shirts to reveal that they were wearing matching T-shirts beneath their court attire. Some 1L students made the T-shirts, which satirized one of the fictional parties in the case, to celebrate the successful completion of their first year of law school. Tedd was one of the first students to show it off," Barton said.
In addition to Lynne, Tedd, who would have graduated law school in 2015, is survived by his mother, Christine, a brother, Jeff, and another sister, Valerie, and six beloved nieces.
"I was Tedd's professor for LComm I in the fall, and I have fond memories of him – always sitting in his chosen seat at the end of the second row," said Professor Christina Frohock. "Tedd was a pleasure to have in class, respectful, and hard working. We will miss him."
As will we all. "He was a truly gifted, giving soul who I am proud to have called my brother," said his sister, Valerie.
Read about the Tedd Importico Memorial Scholarship set up for him by his fraternity brothers from Rowan University.