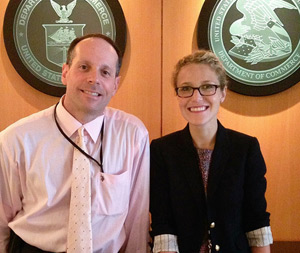 When Steven Berk, JD '96 and Trademarks Chief of Staff for the Commissioner for Trademarks at the U.S. Patent and Trademark Office (USPTO) reflects on his time at Miami Law, he doesn't remember taking any courses on intellectual property law. He does, however, remember building strong friendships and relationships and how they have helped him pave the way throughout his career.
His first step as a lawyer began when he served as one of the first student interns with the Children and Youth Law Clinic, when it first opened its doors. His work there led to a position in child support enforcement, with the Miami-Dade Office of the State Attorney.
Berk credits the strong Miami Law relationships with landing his next prestigious post in Washington, D.C. "It was a strong alumni connection that got me here," Berk said. "One of my friends told me about it. I'm not sure I would've even known about this place without my alumni connection to it."
Berk's area of focus is in the registry of trademarks. When asked about his favorite part of his job, he mentions his colleagues. "I really like the people I work with here, it's a really nice tight-knit group and we really look out for each other. The most valuable thing we have are the people who work here."
Strong alumni ties continue to benefit graduates and students alike, as they link across the country and in Miami Law's backyard.
"When I got the list of the people who were coming [to the USPTO] this summer, I noticed there was someone from Miami and we don't get many people from Miami Law at all, so I sought her out," he said.
Lia Calabro, 3L and Public Interest Leadership Board member, is working at the USPTO this summer and appreciates having a Miami graduate like Berk nearby. "He's really nice," Calabro said. "It has been really great to be here and it's nice to have someone from UM here."
Calabro, who is set to graduate in 2014, was born in San Francisco and grew up in New Jersey. She decided to attend Miami Law after obtaining her Bachelor's degree in journalism and international relations from Syracuse University.
"The opportunities and the people I've met through Miami Law have really taken my journalism and legal interests to where they are today," she said.
She also spent a year after graduating from Syracuse working for a publishing company in Chicago.
"Coming from Syracuse to the [Miami] campus is so beautiful; the people are all really nice," she said. "I'm happy with where I chose to go to school."
Last summer, Calabro worked at Miami Law's Immigration law clinic, which she found fascinating.
"I really enjoyed the immigration clinic," she said. "I really enjoyed having multiple clients and being able to do real legal work even though I was still a student."
In addition to those experiences, Calabro also worked as a legal analyst for Ultra Music Festival and as a research assistant for Professor Elizabeth Iglesias.
Calabro shared an important lesson she's learned at Miami Law. "There are so many different career options you can have with a legal degree," she said. "The public interest section of law is diverse, fascinating and in a way more accessible to law students than the big law firms. Students don't know what opportunities are in front of them right now, they have to be really proactive. You have to really network and put yourself in the best position that you can."