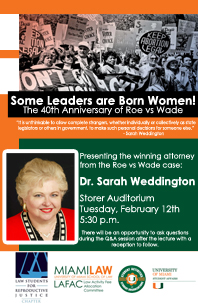 Sarah Weddington, who successfully argued the landmark Roe v. Wade case before the U.S. Supreme Course in 1973, will speak on Feb. 12 in the University of Miami's Storer Auditorium. Weddington's lecture is titled "Some Leaders are Born Women!"
Weddington, fresh out of college, joined a group of graduate students at the University of Texas, Austin, who were looking to challenge anti-abortion statutes. Weddington volunteered to head a lawsuit, representing "Jane Roe," that opposed the Texas law. She was later elected to serve three terms in the Texas House of Representatives.
A law professor and women's rights advocate, Weddington was awarded the Margaret Brent Award for Lifetime Achievement from the American Bar Association's Commission on Women in the Profession and the Planned Parenthood Federation of America's Margaret Sanger Award, its highest honor. PBS will feature Dr. Weddington in a documentary on the organized women's movement airing this month.
The Feb. 12 lecture, at 5:30 p.m., will be hosted by the University of Miami School of Law, Law Students for Reproductive Justice, the Department of Student Activities and the Division of Student Affairs. The Storer Auditorium is at 5250 University Drive on the Coral Gables campus.