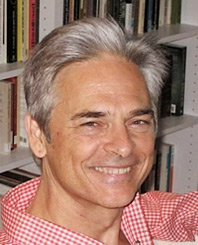 Miami Law's newest joint-degree program, a J.D./Ph.D. in Environmental Science and Policy, was the motivating impulse for an address at the law school by Dr. Dale Jamieson, the Director of Environmental Studies at New York University.
In his lecture, "Science and Law for the Anthropocene," Dr. Jamieson spoke about the benefits of combining degrees in environmental law and environmental science and policy and discussed examples of current environmental problems relating to climate change and biodiversity conservation. The lecture took place on Jan. 28 in the Faculty Meeting Room at Miami Law. (The Anthropocene is a geologic chronological term that marks the evidence and extent of human activities that have significantly affected the earth's ecosystems.)
At N.Y.U, Dr. Jamieson is Professor of Environmental Studies and Philosophy, and Affiliated Professor of Law. He was previously Henry R. Luce Professor in Human Dimensions of Global Change at Carleton College, and Professor of Philosophy at the University of Colorado, Boulder, where he was the only faculty member to have won both the Dean's award for research in the social sciences and the Chancellor's award for research in the humanities. He has held visiting appointments at the National Center for Atmospheric Research and at Cornell, Princeton, Stanford, Oregon, Arizona State University and the University of the Sunshine Coast in Australia. He is a past president of the International Society for Environmental Ethics.
Dr. Jamieson is the author of Ethics and the Environment: An Introduction (Cambridge, 2008), and Morality's Progress: Essays on Humans, Other Animals, and the Rest of Nature (Oxford, 2002). He is the editor or co-editor of nine books, most recentlyReflecting on Nature: Readings in Environmental Philosophy, 2nd Edition (Oxford University Press, 2012) with Lori Gruen and Chris Schlottmann.
His research has been funded by the National Science Foundation, the U.S. Environmental Protection Agency, the National Endowment for the Humanities, and the Office of Global Programs in the National Atmospheric and Aeronautics Administration. He is a principal investigator on a National Science Foundation Project on "Assessing Assessments: A Historical and Philosophical Study of Scientific Assessments for Environmental Policy in the Late 20th Century", with Michael Oppenheimer (Princeton) and Naomi Oreskes (UCSD). He is also writing a book on the moral and political challenges of climate change, a topic on which he has worked for more than twenty-five years.