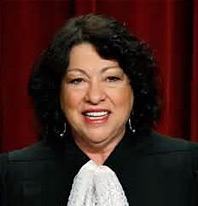 Justice Sonia Sotomayor will visit the University of Miami on Friday, February 1st at the BankUnited Center on the Coral Gables campus. The event is a discussion with Justice Sotomayor led by University of Miami President Donna E. Shalala. Doors will open at 5:30pm, and the event will begin at 6:00pm. The event is being held in conjunction with Books & Books, Coral Gables.
The first Hispanic and third woman appointed to the United States Supreme Court, Sonia Sotomayor has become an instant American icon. Now, with a candor and intimacy never undertaken by a sitting justice, she recounts her life from a Bronx housing project to the federal bench, a journey that offers an inspiring testament to her own extraordinary determination and the power of believing in oneself.
Tickets for this special event are free and required for entry, and must be picked up in advance.
Tickets for undergraduate, law, and graduate students on the Coral Gables campus will be distributed on a first-come, first-served basis, at the Whitten University Center Ticket Window located on the Coral Gables campus. Distribution will begin at 8:30am on Wednesday, January 23rd. The ticket window is open from 8:30am - 3:30pm, Monday-Friday.
Only one ticket per student will be given. Holding of spaces in line for others will not be permitted, and you must remain in line until you receive your ticket. You must present your own valid Cane Card.
All currently enrolled students may pick up tickets at the Whitten University Center Ticket Window. In addition, arrangements have been made for students on other campuses. Ticket information for faculty/staff will be available shortly.
No large bags, purses exceeding 8.5" x 11", backpacks, sharp objects, umbrellas, food or drinks, video cameras, or signs/banners will be allowed into the building. Cameras and cell phones are permitted.