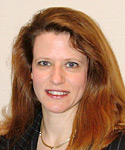 Visiting Professor Lesley Rosenthal, Vice President, General Counsel and Secretary of the Lincoln Center for the Performing Arts in New York, is teaching a one-week course at Miami Law titled "The Role of In-House Counsel at a Nonprofit," from Feb. 18-23.
At Lincoln Center, Rosenthal counsels and supports a 75-member board. She is the author of the bestselling book Good Counsel: Meeting the Legal Needs of Nonprofits(John Wiley & Sons, 2012).
In response to a request from Emily Horowitz, a Post-Graduate Student Service Fellow at Miami Law, Rosenthal provided answers to the following questions:
Why did you choose to teach at Miami Law?
Initially I was introduced to Dean White by Peter Britell, a great real estate and construction lawyer whom Lincoln Center has used for years, and whom I've gotten to know well through our work together on Lincoln Center's recently completed $1.2 billion redevelopment project. Peter has been telling me how much he's been enjoying teaching the "Law of Green Buildings" in the Graduate Program in Real Property Development, and he was very kind to introduce me when I was coming through town last year. Thanks to that introduction and the invitation of the Dean, I had the opportunity to give a guest lecture here last January. At a luncheon sponsored by Miami Law's Career Development Office, I had a chance to talk about my book, Good Counsel: Meeting the Legal Needs of Nonprofits, and share some observations and experiences about serving the arts and the public interest through the law. The whole room was full – at first I wasn't sure if it was me or the free pizza! – but the students were very engaged, welcoming and well prepared with questions and answers. I have enormous respect for the work of the faculty here. I would love to meet Professor (Stephen) Urice, and I'm so curious to learn more about the interdisciplinary programs with the music school and with the environmental studies program.
What are you most looking forward to about teaching at Miami Law?
Since my first visit to Miami last January, I've had the opportunity to criss-cross the country, speaking with law students just about everywhere – L.A., Chicago, Harvard, Penn, Georgetown, Columbia, Syracuse and more – about being in-house counsel at a nonprofit organization. People are hungry for information about this rewarding career track, but there's very little out there in terms of what the job is really like, how you prepare for it, how you land it, what you do once you're there, how you can put the law to work to fulfill the mission of an organization you believe in. I want law students to know about the critical role that they as future general counsel can play in maintaining good practices and good governance at a nonprofit. We get at that through storytelling, through experiences and illustrations, through learning from other nonprofits where things went wrong, how we might avoid similar problems in the future. Returning to Miami Law for a whole week gives us an opportunity to go more in-depth, to really explore the role with a very eager, motivated, diverse and curious group of students.
What can a Miami Law student hope to get out of your class?
We are going to get some paper-cuts together! And by that I mean we are going to be doing some hard-core drafting: a joint-venture agreement, an intern program, a sweepstakes entry, a cease-and-desist letter, and more. We'll also role-play a wide variety of circumstances that can face a nonprofit's general counsel at any time: a negotiation of a complex digital media deal, a sticky employment law situation, a demanding donor, an ailing founder who doesn't want to let go of her leadership of the charity she founded, a political law quagmire, a conflict of interest, and more. Through these hands-on, interactive activities, the students will gain insight into the demands and rewards of the job. They'll get a healthy dose not only of the legal skills required to serve with excellence as part of a management team, but also of the diplomatic skills, the legal educator role, a certain amount of "managing upward" to the CEO and the board chair that comes along with the lawyer's professional duty to render independent legal advice. On the last day, I will challenge the students to envision themselves as candidates for the general counsel job of a major nonprofit seven or so years after graduating, and then get up on their feet and convince me they're the one for the job!
What is your most memorable teaching experience?
It happened here! I looked into the room at one point, and there was my Harvard Law School classmate Ileana Porras (now Miami Law's Associate Dean of Academic Affairs). We recognized each other immediately, even though we hadn't seen each other since graduating in 1989!
Where is the coolest place you've gotten to travel?
After I finished my judicial clerkship in the federal court in Manhattan but before I started as an associate at Paul Weiss, in October 1991 I took off a month to go trekking in Nepal. A friend and I traveled with a sherpa guide. We got as high as 14,000 feet, the Annapurna base camp in the Himalayas. The views and the feeling of being on the roof of the world were unforgettable. I love hiking and being outdoors.
Please give us one fun fact about yourself.
I'm a violinist – my whole family plays music. My husband, Ted Rosenthal, is a noted jazz musician and composer, who will be doing gigs while we're here in town, at the Van Dyke on Tuesday and the Arts Garage in Delray on Friday, and some guest teaching at the Frost School and FAU. He, our teenage sons, who play the cello, and I, love to jam in our living room.
What was the most interesting case you ever worked on?
The $1.2 billion redevelopment of the Lincoln Center complex has certainly been a highlight and a challenge. We cut the ribbon on the last of the 37 project elements in October. I fashioned the legal context for the modernization of Lincoln Center's physical campus as well as the revamping of its economic model.
What do you consider your greatest contribution to the field?
A work-in-progress: to highlight for leaders throughout the nonprofit sector the urgency of having a general counsel coordinate the legal needs of these important organizations. My book – Good Counsel: Meeting the Legal Needs of Nonprofits, andassociated website, Twitter feed (@GoodCounselBook) and Facebook page – are helping get the word out.
What kind of jobs are there for aspiring young attorneys in your field?
I'm bullish on the prospects for lawyers who are well-versed in serving nonprofits. Word is starting to get out that good legal, compliance and governance helps charities meet their missions. Just because they are tax-exempt doesn't mean they're law-exempt!
What do you consider the burning issues in your field for the next five years and beyond?
Reconciling the wide range of federal and state regulations with society's increasing need for high-quality charitable services, efficiently delivered and adequately funded.