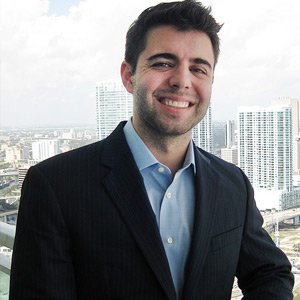 In a series of simulated disputes, a team comprised of second-year Miami Law students Ryan Appel and Mitchell Retelny came in fourth place, out of 40 teams from around the country, in the 6th Annual National Baseball Arbitration Competition at Tulane University in New Orleans.
On the first day of the contest, Appel and Retelny won their first three arbitration cases, against George Mason University, the University of Iowa, and the University of Nevada, Las Vegas. They advanced to the quarterfinals the following day, losing to host Tulane by just two points. In the final round, New York's Pace University emerged the victor, just ahead of Tulane. Chicago–Kent College of Law took third place.
"This will sting for a while, but it was a terrific experience for the two of us," Appel said. "We're both passionate about baseball." Appel recounted that a journalist had approached him in New Orleans and said he "was shocked that we didn't make it to the finals and that we were excellent."
Last November, Appel and Retelny won the Intraschool Baseball Salary Arbitration Competition at the University of Miami, a performance that prompted the law school to sponsor their entry into the contest at Tulane. Two years ago, Miami Law students Jason Sosnovsky and Mark Lesorgen were the winners of the national contest, beating 33 teams in the process, including those of Harvard University, Fordham University, the University of Notre Dame, and Duke University. The contest is hosted by Tulane Law School's Sports Law Society.
Appel, a Los Angeles native and sports fan who majored in Business Administration at the University of Southern California, said that it was Miami Law's victory at Tulane in 2011 – as well as the existence of the school's Entertainment and Sports Law Society – that inspired him to apply to Miami Law. "Wow, these guys take sports seriously," Appel recalled thinking at the time.
More recently, Appel had a legal externship with the Miami Dolphins. He has also become Vice President of Administration of the Entertainment and Sports Law Society. A Writing Dean's Fellow, Appel is putting together an article about NCAA enforcement procedures for submission to the University of Miami Business Law Review.
Retelny, who earned a B.A. degree in History and Political Science from Emory University, is taking a year off law school to work as a marketing intern for the Minnesota Twins, who gave him two days off to attend the Tulane competition. He previously worked in marketing for SportsTrust Advisors and the Visalia Rawhide, a minor-league affiliate of the Arizona Diamondbacks. His family lives in Miami.
"If I had to have one big takeaway, it was the fact that I was able to merge my law student side with my sports fan side," Retelny said. "The biggest thing about the whole experience process was the fact that through the medium of Major League Baseball salary arbitration we were able to channel our newfound legal knowledge and combine that with our knowledge of baseball. This intersection of sports and law was present throughout the entire process – in writing our briefs and in presenting our oral arguments as well as thinking analytically about which arguments and statistics worked best and how to best structure our cases. To be able to find an outlet to channel our legal knowledge and skills with our passion of baseball was truly a special and extremely gratifying experience."
The National Baseball Arbitration Competition is a simulated salary arbitration contest modeled closely on procedures used by Major League Baseball, according to the organization's website. Like most law school moot-court competitions, the arbitration competition's main goal is to provide participants with the opportunity to sharpen their oral and written advocacy skills, but the competition is unique in that it allows law students to sharpen these skills within the specialized context of MLB's salary arbitration proceedings.
"We felt very prepared and confident coming into the competition, especially because of our success at the University of Miami Intraschool Baseball Salary Competition in November," Appel said. "We took all of our judges' feedback to heart and we felt that helped us prepare for Tulane. We spent most of our winter recess conducting research, writing our briefs, drafting our exhibits, and preparing for our oral arguments. It was a honor to make it to the quarterfinals, but we were disappointed. Our goal was to win the competition. We were very confident in our game plan and we executed it to the best of our abilities. We were very proud of our performance and we wouldn't have done anything differently. We left it all on the field."
The judges were Brian Minniti, Assistant General Manager of the Washington Nationals; Mandy Eysie, Senior Manager of Legal Operations for the Boston Red Sox; and Jorge Arangure Jr., a sportswriter who was formerly with ESPN and The Washington Post and contributed to The New York Times and Sports on Earth.
"It was a great experience competing against 39 other schools from around the country, in front of judges who have real baseball experience," Retelny said. "Based on our performance and the feedback we received from our judges, we both left New Orleans believing that we could really do this one day."
Click here to read an ESPN article about the competition.