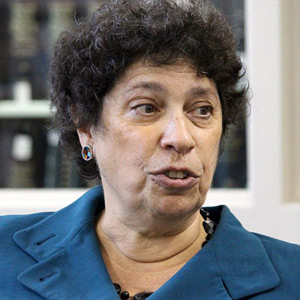 As president of the American Civil Liberties Union, Professor Susan Herman is often called upon to express her opinions on some of the most potent and controversial issues in the land, and her recent appearance at Miami Law was no exception.
Responding to questions from an audience in the law library reading room, Professor Herman – who teaches Constitutional law and criminal procedure at Brooklyn Law School – addressed an array of concerns, particularly what she views as instances of over-reaching in the policies of the George W. Bush and Barack Obama administrations. She said also that the courts "have done so little to push back" against voter suppression efforts, anti-immigrant legislation, the Patriot Act, campaign finance abuses, and attacks on contraception and similar issues in the so-called "war on women."
Under President Bush, she said, there was "no due process" in certain matters involving searches and wiretapping. Professor Herman recalled that if the administration had no solid evidence against someone they suspected of wrongdoing in the "war on terror," Attorney General John Ashcroft decided that "you could pick them up as a material witness." Such practices prompted the ACLU to sue Ashcroft, she said.
Even now, Professor Herman said, former Vice President Dick Cheney "can't go to places like Italy, Germany and Spain" because he could be prosecuted for war crimes.
While she commended President Obama for ending the torture of terrorism suspects that had been so emblematic of the Bush administration, she faulted him for not closing the Guantánamo Bay detention camp, where some of the abuses are alleged to have occurred. Professor Herman said the Obama administration had declined the ACLU's request that it release information on the torture practices of the Bush years, "because it would damage national security." From Professor Herman's point of view, the Obama administration's response to such issues "is not very different from the way President Bush operated."
Sitting beside Howard Simon, Executive Director of the Florida ACLU, Professor Herman also faulted the United States' intelligence community's drone program, under which terrorism suspects are targeted by pilotless aircraft equipped with lethal weapons. In at least two cases, the men killed were U.S. citizens allegedly operating in terror cells in the Middle East. Regardless of the perceived crimes, Professor Herman said, "You still have the right not to have the government take your life without due process." She said the drone program is deeply harmful to U.S. interests abroad. "Every country that we like to compare ourselves to," she said, "thinks that whatever we're doing is shocking."
Professor Herman's recent book, Taking Liberties: The War on Terror and the Erosion of American Democracy, takes a hard look at the human and social costs of America's efforts against terrorism in the wake of 9/11, and provides an assessment of the impact of U.S. policies on the lives of individuals around the world.