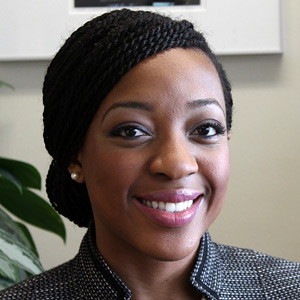 Pamela Adewoyin, a second-year law student at Miami Law, has been enjoying some good news lately.
To begin with, she has been honored with the National Black Law Students Association's Outstanding Student Leader Scholarship. The award is given annually to recognize an NBLSA member who has excelled academically, in addition to being active in his or her BLSA chapter and community.
"This is terrific recognition of Pamela," Dean Patricia D. White said after hearing the news. "The law school is proud to have her as a student."
Adewoyin will be accepting the award next month at the NBLSA National Convention in Atlanta.
"When I received the e-mail notification about the award, I literally screamed, jumped, and shed a tear in a span of about a minute," Adewoyin said. "I will never forget the day that I left my apartment in the Bronx to move down to Miami for law school. When I got into the cab, all I had were two suitcases, and I left everything else behind to follow my heart. I promised myself that I would work hard, and it would all be worth it. I didn't really know what 'it' was at the time, but this recognition from the National Black Law Students Association, an organization that I have so much respect for, is an indication that I might be heading closer to my 'it.' I am honestly beyond humbled and blessed to receive this award."
Marcelyn Cox, Assistant Dean of the Career Development Office, said, "This is a great and well deserved honor for an incredibly dynamic and exceptional student leader."
The National Black Law Students Association is the nation's largest student-run organization, representing nearly 6,000 minority law students from more than 200 chapters and affiliates in the United States and six other countries.
As if the NBLSA award were not enough, Adewoyin has been chosen to receive the Wilkie D. Ferguson Jr. Bar Association Scholarship. Yolanda V. Paschal, J.D. '09, an attorney with Carlton Fields in Miami and President-elect of the Wilkie D. Ferguson Jr. Bar Association, announced the scholarship award last week. The organization seeks to articulate and promote the goals of African American lawyers in Miami-Dade County while fostering a greater awareness of the civil and political rights of the local African American community. Each year it funds scholarship awards for deserving minority law students. This year, the recipients will be honored at an annual awards gala on Feb. 23rd.
"To everyone involved in making this happen, thank you dearly from the bottom of my heart," Adewoyin said. "You have no idea how much this means to not only me, but my family here in the States and back home in Nigeria."
Adewoyin attended Temple University in Philadelphia, where she graduated magna cum laude and served as Commencement speaker for her school. At Miami Law, Adewoyin is President of the Black Law Students Association's Robert H. Waters Chapter; a fellow in the Center for Ethics and Public Service; a candidate for theBusiness Law Review; and a member of Honor Council.