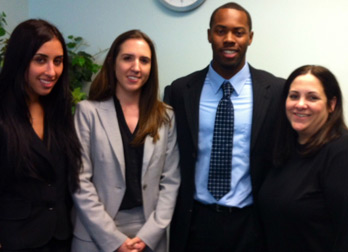 Miami Law's Professional Responsibility & Ethics Program (PREP) recently presented a CLE ethics training at Legal Services of Greater Miami. PREP students Jerome Jackson, Paige Rivkind and Christina Flatau addressed the ethical implications of establishing the attorney -client relationship when dealing with an incompetent client and a guardian, attorney fees, service on Facebook and conflict of interests.
The students developed three hypothetical scenarios to discuss these legal ethics issues. The scenarios highlighted the necessity of conflict checking systems, the potential conflicts of interest between a former client and a prospective client within different units of a legal services organization, identifying the client, and the importance of explaining an attorney fee provision in a non-profit's retainer letter.
"The attorneys were engaged and passionate about these complicated issues. Listening to their discussions on how they face these issues was an eye-opening experience on the daily challenges that legal service organizations encounter," said Flatau.
"The preparation that went into this training was a great experience," said Rivkind. "I was able to look into the ethical issues lawyers may confront in a unique way that I would not have experienced had I simply been trying to answer these questions in an examination. Additionally the conversation that took place during this training gave me a unique perspective into these ethics issues that will be beneficial in my own practice of law."
"The Legal Services staff and attorneys provided great discussion and dialogue which really gave the presentation a very interactive and intimate feel," added Jackson.
PREP is an award-winning program, directed by Lecturer in Law Jan L. Jacobowitz, that provides the opportunity for students at Miami Law to create and present CLE trainings for legal professionals. Established in 1996, students in the program have dedicated countless hours to public service, educating thousands of members of the Florida Bench and Bar. In 2012 the ABA recognized PREP with its E. Smythe Gambrell Professionalism Award, the leading national award recognizing programs and projects contributing to the understanding and advancement of professionalism among lawyers.